Vinegar is a product of fermentation. Making apple cider vinegar involves two processes. In the first stage of fermentation, sugars are turned into alcohol, then that alcohol ferments again and turns into vinegar. The main ingredient in apple cider vinegar is acetic acid, which has been singled out as an especially healthful tonic.
For more than 2,000 years vinegar has been used to flavor and preserve foods, heal wounds, fight infection, clean surfaces, and manage diabetes, to name a few. But does it really work? Let's find out.
1. Digestion
Apple cider vinegar is good for digestion. If you sip it before eating, especially if you know you're going to indulge, it can help fight indigestion. Add one teaspoon of apple cider vinegar and 1 teaspoon of honey to a glass of warm water and sip before a meal. The pectin in the apple cider vinegar also helps treat diarrhea by forming bulk fibrous matter and a protective coating around the lining of the colon.
2. Type 2 Diabetes
A 2007 study of 11 people with type 2 diabetes found that taking 2 tablespoons of apple cider vinegar lowered glucose levels in the morning by 4-6 percent.
3. Urinary Tract Infections
Taking a teaspoon of apple cider vinegar each day keeps a balance in your urinary tract, decreasing your chances of getting a bladder or urinary tract infection.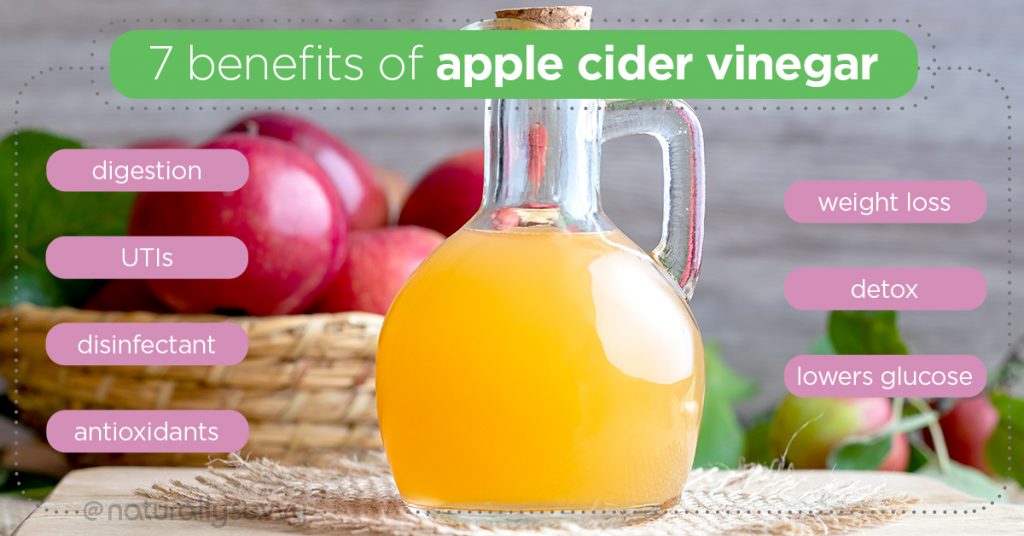 4. Antimicrobial Properties
Apple cider vinegar can also be used as a disinfectant that's a safer compound than bleach. Mix 1 cup of vinegar in a spray bottle with water to clean counters and kitchen equipment. It's a less expensive alternative to all-purpose sprays.
Read more about cleaning with vinegar
5. Source of Polyphenols
Apple cider vinegar is a source of polyphenols, which are compounds synthesized by plants to defend against oxidative stress. Polyphenols enhance oxidative protection, reducing cancer risk as well as conditions like heart disease.
6. Weight Loss
One trial found that healthy women consumed fewer calories on the days they ingested vinegar in the morning. This proves the age-old truth that apple cider vinegar is a great tool against weight gain.
Read more about coconut vinegar
7. Detox Bath
Need a detox bath on the cheap? Add one to two teaspoons of apple cider vinegar to draw toxins out of the body, leaving behind toned and moisturized skin.
Bottom Line
Next time you are shopping, pick up a bottle of apple cider vinegar so you can experience some of the many benefits.
Image: jessica wilson