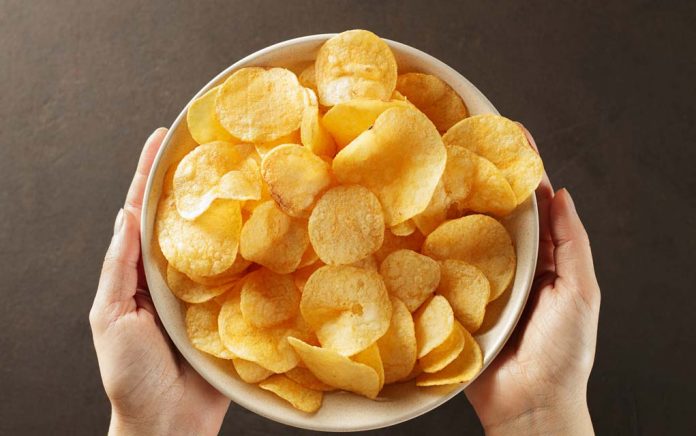 It's slightly embarrassing to admit how much I heart kettle-cooked chips. I'd rather have the chips without the sandwich quite frankly and it takes all my will to stop myself from indulging in these empty calories. That said–all kettle potato chips are not created equal.
What are kettle-cooked chips exactly?
The difference between kettle chips and regular chips really comes down to the cooking process. While regular chips are fried on a conveyer belt through a continuous process, kettle chips are dunked in the fryer in individual batches. That means that the fryer oil cools down with every batch so it takes longer to fry the chips. That's why kettle chips are crunchier clusters of flavor.
Read more about whether vegetables are healthier raw or cooked
What is kettle cooking?
According to Huffington Post, "You could argue that kettle chips have a slight edge on account of the lower temperature of the oil, as the high temperature of conventional methods oxidizes the cooking oil, creating damaging free radicals. But that's a pretty insignificant bonus."
But in the end, it really comes down to the ingredients in your potato chips. Take for example, Organic Sea Salt flavored chips from the Kettle Chips brand:
Kettle Brand® Organic Potato Chips Sea Salt
Ingredients: Organic potatoes, organic vegetable oil (safflower and/or sunflower oil), sea salt.
vs
Lay's Classic Potato Chips
Ingredients: Potatoes, vegetable oil, (sunflower, corn, and/or canola oil) and salt.
First of all, in the organic chips you avoid the pesticide residue from non-organic potatoes. In all, 35 pesticide residues have been found on potatoes by the USDA Pesticide Data Program, six of which are known or probable carcinogens. Additionally, Lay's Classic Potato Chips has canola oil which, unless it's organic, is almost always genetically modified.
Read more about the canola oil controversy
While the nutritional labels are similar, meaning they have about the same amount of fat and calories per serving, the quality of the ingredients are very different. Potato chips should be a splurge no matter the brand. Choosing organic doesn't mean it's a nutrient dense food. But given the choice, organic kettle chips have better ingredients and they taste WAY yummier not to mention they have less free radicals.