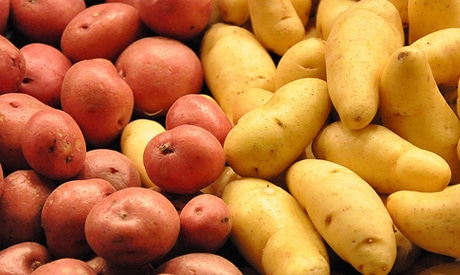 In the world of nondairy milk (or more accurately, "beverages"), it's safe to say most people can probably name several options, such as alternatives made from soybeans, rice, hemp, almonds, and coconuts. But how about a milk alternative made from the vegetable that is the basis for a popular deep-fried fast food? That's right, are you ready for potato milk?
Have a glass of potatoes!
I realize it may take a while to get used to the idea of drinking potatoes. After all, shouldn't spuds be baked, mashed, or sitting on your plate in the form of fries or hash browns? To make the idea of drinking these tubers even more interesting, potato milk isn't even a liquid, unless you make it yourself (recipe below). Unlike other dairy milk alternatives, which are typically sold ready to drink, potato milk is powdered. Just add water, stir, and you're ready for a tasty treat. If you still are not convinced, here's an incentive that works nearly every time: potato milk is available in chocolate!
Read more about 4 Delicious Non-dairy Milk Alternatives
Potato Milk Pros and Cons
Potato milk has lots of health benefits, especially for anyone who has food allergies or intolerances, including children with autism. That's because potato milk is dairy-free, gluten-free, casein-free, fat-free, cholesterol-free, and soy-free. Commercial brands of potato milk are good sources of vitamin D and B12 and are fortified with important vitamins and minerals, including vitamins A, C, D, E and K as well as seven B vitamins, calcium (as much as cow's milk), and iron.
You can use potato milk as an alternative to dairy milk in recipes and for cereal and beverages. Overall, potato milk is an important alternative to dairy milk for young and old alike.
On the negative side, potato milk does not contain protein. Also, if you make your own potato milk, it will not provide the same level of nutrients available in the fortified commercial brands. However, the addition of almonds to DIY potato milk is a source of calcium.
DIY Potato Milk
1 ½ cups cubed white potato, peeled
3 ½ cups lightly salted water
1/3 cup chopped or sliced almonds (be sure to remove the skins)
2 Tbs molasses, honey, or agave syrup
Boil the potatoes in the salted water until they are soft. Measure the amount of cooking water that remains and add more water until you have 4 cups. Place the 4 cups of water, potatoes, almonds, and sweetener into a blender and pulse for 4 to 5 minutes. Strain the liquid through a cheesecloth and refrigerate the potato milk.
If you are looking for dairy milk alternatives, don't forget to consider potato milk. Although it is more challenging to find in the market, it is available online, and you can make your own potato milk easily at home. 
Photo Credit: Buzz Hoffman