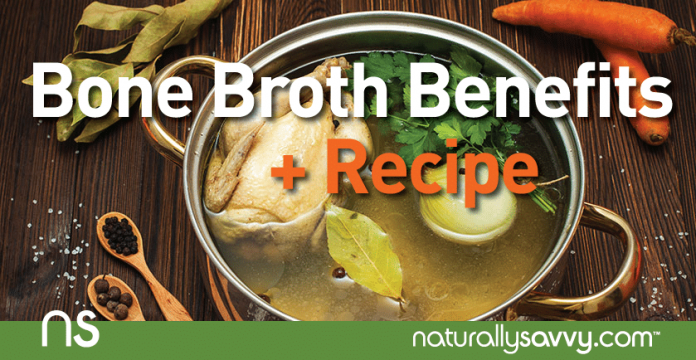 Despite the recent surge of interest in bone broth, some readers may remember the days when their grandmother put a big pot of chicken or beef bones on the stove, added some onions and seasoning, and let it simmer for hours. She was making broth for soup-perhaps her famous chicken soup to help treat colds or warm you on a winter's day. Grandmothers knew their slow-cooked broth was nutritious, and now experts are telling us why.
The most important thing you need to know about bone broth or bone stock is that you should make it from organically raised, grass-fed, or pastured animals. Animals that are the product of factory farming, including chickens, tend to produce broth that doesn't gel. Gelatin, which is a byproduct of the breakdown of collagen, is one of the more valued healing ingredients in bone broth, and if you make broth from conventionally raised animals, you will be cheating yourself of its benefits (see below).
Conventionally raised animals also are exposed to antibiotics, steroids, and other veterinary drugs as well as being fed an unnatural diet. All of these substances have the potential to end up in your bone broth.
Read about how antibiotics are still in your milk
According to Sally Fallon of the Weston A. Price Foundation, "Stock contains minerals in a form the body can absorb easily-not just calcium but also magnesium, phosphorus, silicon, sulfur and trace minerals [all found in bones]." Bone broth also glucosamine and chondroitin sulfates, which are broken down from tendons and cartilage. You may recognize these two substances as popular natural remedies for arthritis.
The easily digestible feature of bone broth is also associated with another benefit-promoting the integrity of the gut. Lately we've heard a lot about the importance of achieving and maintaining a healthy bacterial balance in our gut. In fact, the health of the gut is intimately connected with the brain (i.e., the gut-brain axis) and therefore mental and emotional health as well.
Bone broth can play a key role in gut health, according to Dr. Natasha Campbell-McBride. She believes bone broth is an excellent dietary way for "healing and sealing" your gut because of its high nutritional value and ability to heal the gut lining. Her work has shown that children with autism don't develop normal gut flora from birth, and that bad bacteria and toxins from the gut can enter the bloodstream and the brain, leading to autism and other neuro-developmental disorders.
Read more about the gut-brain axis
Health Benefits of Bone Broth
So why should you consider bone broth? We came up with at least half a dozen reasons. Admittedly there are no peer-reviewed scientific studies of bone broth per se, although the literature is peppered with a few on chicken soup. Proof of the healing value of bone broth comes from evaluating what we know about the ingredients in bone broth. For example:
• Gelatin in bone broth is a hydrophilic colloid, which means it attracts digestive juices and other liquids and holds onto them. This characteristic makes bone broth supportive of the digestive process.
• Gelatin also supports hair and nail health and growth. Could bone broth be your recipe for healthier hair and stronger nails?
• Amino acids in bone broth can offer various benefits. Arginine has anti-inflammatory properties and boosts immune function; proline regenerates cartilage, helps leaky gut, and reduces cellulite; glycine helps detoxify the body and may help you relax and improve sleep; and glutamine protects the gut lining, helps build muscle, and improves metabolism.
• Broken down cartilage provides glucosamine and chondroitin, which are often taken in supplement form to treat pain and inflammation associated with various forms of arthritis
• Infection-fighting abilities could be attributed to bone broth, as at least one research endeavor has indicated that chicken soup has a "mild anti-inflammatory effect"
• The calcium and other important minerals in bone broth can support strong bones and teeth. One study conducted at the Charles A. Dana Research Institute in Boston reported that prolonged cooking of soup with a beef bone increased the calcium content when cooked at an acidic but not neutral pH (which is why vinegar is part of a bone broth recipe; see below).
Basic Bone Broth Recipe
Making your own bone broth takes very little prep time but at least 24 hours of simmering. You will need a large cast iron or stainless steel pot or a crockpot. Since bone broth requires about one full day of simmering, for safety reasons it's best to use a crockpot if you are not going to be home during the cooking process.
The following is a basic recipe using chicken for bone broth. Beef bone broth typically has a longer simmering time; you can get a recipe for beef bone broth here.
Ingredients:
4 quarts cold filtered water
2 tablespoons vinegar (which leaches the minerals from the bones and also combines with fats)
Either: one whole free-range chicken or 2 to 3 lbs bony chicken parts (backs, wings, necks)
1 large onion, chopped
2 carrots, peeled and chopped
3 celery stalks, chopped
Handful of fresh parsley
Directions:
Place all of the ingredients except the parsley into your pot or crockpot. Bring to a boil and then skim off any foamy scum floating on the top. Reduce the heat and simmer for about 2 hours. If you used a whole chicken, now is the time to remove the meat from the bones and put it aside for other uses later, such as chicken soup, salad, or casserole. Once the meat has been removed, continue simmering for 24 hours. If you used bony chicken parts, just continue to simmer for 24 hours. 10 to 15 minutes before the broth is done, remove the bones with a slotted spoon and a strainer.
Use your bone broth as the base for soups, alone as a quick pick-me-up, or add it to stews. Bone broth can be frozen for several months for future use.
Bone Broth Caveat
A 2013 study from experts in the United Kingdom warned about the risk of lead contamination in bone broth. They noted that bones can harbor lead, which can then be released during the preparation of bone broth.
To see how much lead might be present in bone broth, the scientists conducted a blinded, controlled study of organic chicken broth. They discovered that the lead content of broth prepared from cartilage and skin removed from the bone once the chicken had been cooked with the bones and chicken-bone broth both had significantly higher lead concentrations (0.5 and 7.01 ug L(-1), respectively, than tap water [0.89 ug l(-1)].
Naturally, bone broth isn't for everyone, especially our vegetarian and vegan friends. But for those who want to explore an inexpensive and easy way to boost their nutritional intake and experience some other health benefits along the way, bone broth may be just what the doctor ordered.
Sources:
Dr. Axe. Bone broth benefits for digestion, arthritis, and cellulite.
Fallon Sally. Weston A. Price Foundation. Broth is beautiful.
Monro JA et al. The risk of lead contamination in bone broth diets. Medical Hypotheses 2013 Apr; 80(4): 389-90
Rennard BO et al. Chick soup inhibits neutrophil chemotaxis in vitro. Chest 2000 Oct; 118(4): 1150-57
Rosen HN et al. Chicken soup revisited: calcium content of soup increases with duration of cooking. Calcified Tissue International 1994 Jun; 54(6): 486-88