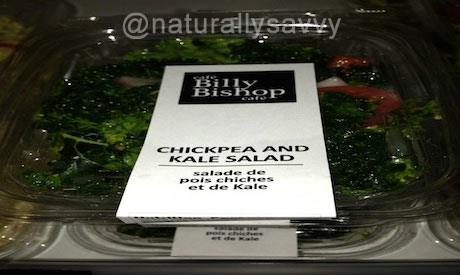 I love to travel.
And I especially love to travel with my family when we are headed on vacation.
It's nice to be able to leave it all behind for a week or so and return to my busy schedule refreshed and ready to hit the ground running. But one thing I make sure not to leave behind is my healthy diet. I'm a clean eater, but I'm also a realist. While I do my best to maintain a chemical- gluten- and dairy-free diet wherever I am, it can be more difficult to impose my hard core values on my family, especially when we're traveling. However, I do my best to ensure we have healthiest snacks on hand at all times to reduce the temptation of buying unhealthy options.Read more about why you should avoid GMOs
I've been lucky with our travels when it comes to food. Five years ago we went to Club Med in Port Saint Lucie, FL. On our way to the resort, we stopped for a quick shopping trip at Whole Foods Market and I picked up some of my favorite items so I could keep the fridge stocked while we were there. I called the resort beforehand to ensure we had a fridge in our room and to make sure they were OK with me bringing my own items like almond milk and gluten-free cereal to keep in the kitchen so I didn't have to bring it with me to the dining room each morning.
They were.
In 2010, we took my then five-year old daugter and seven-year old son to Disney World. One night we had dinner at a princess restaurant in Epcot and I forgot to call ahead of time to ask them if they could accommodate my gluten and dairy free eating habits. However, I didn't need to worry because they were very accommodating. The chef even came over to our table to tell me how he was going to make me something super special to make sure I was satisfied.
I was.
This past January we went to Cancun, Mexico. This time it was a little bit more difficult since we were out of the country, so I came prepared. I packed an extra suitcase filled with the healthiest snacks I could get across the border (yes, one whole suitcase dedicated solely to food!). I had to laugh because our all inclusive resort sure got their money's worth out of me because I ate so little of their food. The extra suitcase I brought with me is pictured above.
If you're like me and have food allergies, or even if you're trying to eat as healthy as you can even when you're away from home, I recommend coming prepared. Here are some of the healthiest snacks I packed in my suitcase for my trip to Mexico:
Almond Milk, Coconut Milk or Quinoa Milk
Alternative milks are a staple in our home. We use them for everything including cooking, baking, smoothies, shakes and as an overall replacement for cow's milk. I had it every morning with my organic gluten-free cereal.
The Mexican resort I stayed at was very happy to store my opened carton of Almond Breeze in their fridge. When they would see me coming in the morning, they would rush to bring it to me so I could enjoy my breakfast. Very sweet.
Organic Instant Oatmeal
Instant oatmeal is great to have on hand for breakfast and snacking purposes. Because you only have to add hot water, you can throw it into your carry-on bag, which I often do when traveling. I opted for Country Choice Organic oatmeal because it's pesticide-free, Non-GMO, and does not contain sulfites (conventional oatmeals often contain sulfites to prolong their shelf life. Sulfites can cause headaches, irritable bowel, behavioral disturbances, and skin rashes).
Kale Chips
I like to make my own kale chips because they can be pricey when they are store bought, but for traveling purposes, this is a good product to have on hand because it's packed with nutrition, and it's low in fat because the kale is dehydrated, not fried.
Applesauce
My two-year-old and eight-year-old daughters are obsessed with GoGo squeeZ's applesauce. They are an easy-to-open and convenient snack to have on hand while on the go. You can throw them into your suitcase (they are 3.2 oz each so you may or may not be allowed to bring it on the airplane in your carry-on bag) as they are a great alternative to conventional applesauce that contains high-fructose corn syrup and artificial colors. They are also GMO-free and have organic options available at Whole Foods Market across the country. We featured these in our free e-book earlier this year (Label Lessons: Your Guide to a Healthy Shopping Cart).
Chips, Salty Snacks
What better place is there to bring tortilla chips with me than Mexico? I know if sounds strange, considering they have their own, but I prefer organic tortillas over conventional corn tortillas so I opted to bing my own from Late July Snacks. I threw them into my carry-on and munched on them when I craved something salty.
Miscellaneous Snacks
I also packed chia seeds, organic dried fruit, baked lentil chips, coconut chips, organic granola bars, and roasted chickpeas. These are great grab-and-go snacks for the beach or long road trips for those times you might not be able to access heathy snacks so easily.
I travel a lot for work and I always bring my own food. I still have a hard time finding healthy snack items at airports, but the good news is that some airports are starting to sell healthier options for health nuts like me. Here is an example of a chickpea and kale salad I recently spotted at Billy Bishop Airport in Toronto: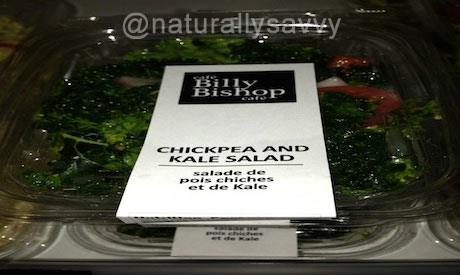 Am I crazy to travel with all that extra food? Maybe. But the truth is, it gives me peace of mind, so that in itself makes it worthwhile.
Safe travels. 🙂
Image credits: Shawn Bauder, Andrea Donsky