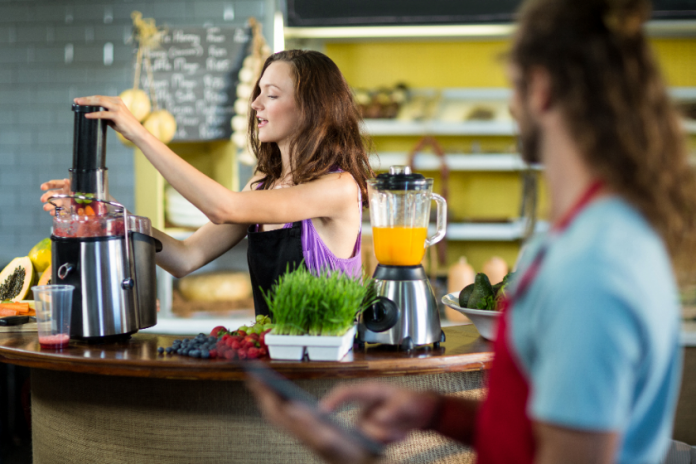 Juices and Smoothies both play a vital role in our day-today-life. Eating raw, fresh, organic green is extremely important for anyone who wants to stay healthy. If you're going to get enough vegetables and fruits into your diet then extracting juices and smoothies at home on your own can be a great way to ensure you do. Both make it easier to drink these nutritious foods, but there are few differences between juicing and blending which most people are not aware. Let's have a look at some detailed information and also know the difference between 'Blender vs. Juicer.'
The Difference Between Juicing and Blending
As we all know there are pros and cons for blenders and juicers, depending on the aim, you are trying to achieve. Both have benefits and can make healthy fruit and vegetable juices with relatively little effort, but the vital thing to know is that both the devices work differently. Juicers have a belief for being messy and bit challenging to clean however blenders are opposite to juicers. Mixers are easy to clean and, for the most part not quite as messy but yes they can be quite noisy.
Juicing vegetables and fruits is one of the best ways to ingest the full goodness of them, in less time than it would take to eat them. And it is also a great way to get a large number of required nutrients and vitamins without doing a lot of work for chewing and with less risk of overheating your blender. Blending breaks down the vegetables and fruit while retaining the fiber. The whole food item is used so you get all those phytonutrients and micronutrients that you would lose if you use a juicer.
9 Surprising Smoothie Ingredients You May Not Have Thought Of
Amount of Fiber and Their Roles
Fibers are found naturally in plant fruits like fruits, vegetables, and whole grains. There are two types of fiber – Soluble Fiber and Insoluble Fiber, and it's essential to have both the fiber nutrients in your diet. In apples, citrus fruits, carrots, and peas you will found Soluble fiber. Insoluble fiber increases the movement of waste through your digestive system and also increases stool bulk. Insoluble fiber can be a great benefit for those who struggle with constipation or having irregular stools. Fiber may reduce cholesterol, stabilize your blood sugar and reduce the risk of some types of cancer, while improving digestive health.
Equipment Required for Juicing and Blending
To prepare smoothies, you will require a blender. Blenders can be used for many different cooking purposes including soups, dips, sauces, butter and much more. You already might have a blender in your kitchen, if not then you will find plenty of different ones available on the market. Look for a traditional blenders, stick blenders, personal blenders, or a heavy duty blenders.
There are many different methods to make juices, but the most effective and easiest one is using a juicer to prepare it. You will find varieties of juicers, in various sizes are available in the market. There are some manual juicers also available, mainly used for citrus fruits or wheatgrass. The popular juicers are those that can deal with different types of vegetables and fruits.
Learn more about Cold Pressed Juices
Pros and Cons of Smoothies
Smoothies are both tasty as well as nutritious. It is a win-win food for people who are trying to lose weight and eat healthfully. From smoothies, you get fiber, which is something that your body needs, smoothies consist of vegetables and fruits making them rich in antioxidants that your body needs to strengthen its immune system and rebuild cells. There are few cons of smoothies as long as they consist of a variety of fruits and vegetables and you watch the number of calories. Sometimes fruits and vegetables may not blend easily which can make achieving the perfect texture tough.
Pros and Cons of Juices
Juices allow you to enjoy your daily dose of veggies and fruits easily. They get easily digested, along with the nutrients present in the fluids are quickly absorbed. Juicing can also lead to weight loss and a single juice can pack sufficient amount of fruits and vegetables to easily add vegetables to your diet.
It requires time to juice; fibers need to remove which contains a lot of the nutritious components of fruits and vegetables including the fiber. It may also cause blood sugar levels to rise by adding lots of fruits without fiber and protein. Juicing is frequently used for fasting.
Juicing and Blending are Great
We all know we should eat as many veggies and fruits as possible every day and juicing or blending smoothies will help you along. No matter which one you choose they are both good and healthy for the body and are easy to make so it doesn't feel like a chore to fit more produce into your diet. Both have its way and benefits that fit into your daily life. Which one is your favorite?
For more information visit: BlenderVersus.com.