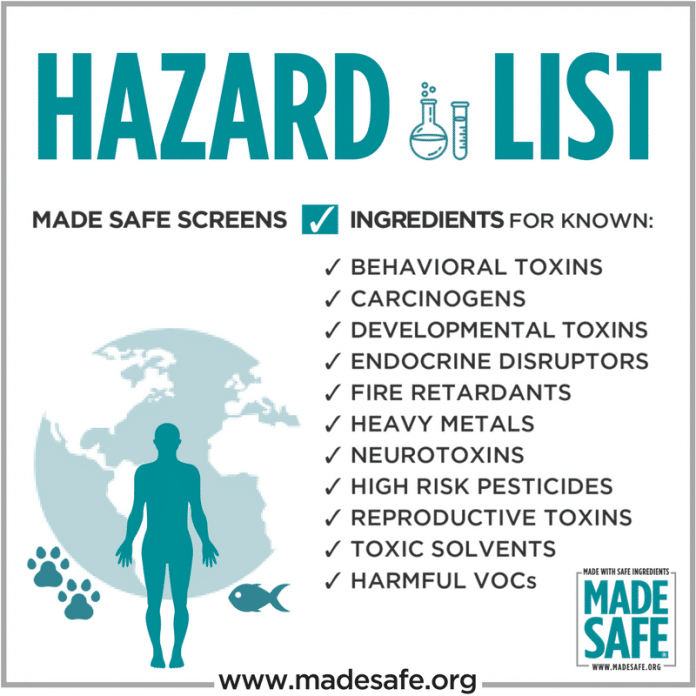 Made Safe released our Hazard List today!™ This science-backed list includes some of the worst offenders of toxic chemicals across product categories, from baby products and personal care to bedding, cleaners, feminine care, and more.
We released the Made Safe Hazard List as a way to provide shoppers with guidance regarding common hazards in products found on store shelves and in their homes. It's includes where these chemicals are found and how they impact human health, environmental health, and aquatic or animal life. Several are built out further with their own pages and infographics, like dioxins & furans (fem care) and PFOA (cookware) with more detail on how to avoid those chemicals.
Read more information on healthy cookware
This comprehensive list differs from others out there in that it includes chemicals across product categories that impact human health and ecosystems. Many lists focus on just one category of products, like beauty, or one category of harm, like endocrine disruptors.
With 300+ scientific citations plus reflecting three years of MADE SAFE screening and the use of ingredients found in real-time within products on store shelves, this list is a big deal. For example, it includes some of Made Safe's new findings on flavor, bug repellent, preservatives, fragrance, retinol, and more. We aim to build on this list over time as data emerges and or/ the science merits.
It's good to note that this is by no means a comprehensive list of all chemicals that are not permitted in MADE SAFE certified products; that list is well into the thousands. Rather than expect people to sift through endless lists of harmful chemicals, we provide the MADE SAFE seal on products for instant assurance. That's why the MADE SAFE exists: we've done the hard work for you to vet all ingredients for known toxic chemicals so you can see at the point of purchase what's safe to use on your body, with your family, and in your home.
The Hazard List is a guide to help educate and explain what Made Safe does and how we approach chemicals and ingredients while educating on common harmful chemicals.
These 12 Household Items Have Harmful Chemicals
It's also a short-cut to knowing more about what IS NOT included in any of our certified products, no matter the brand, type of product, or where it's sold. This list doesn't just belong to Made Safe; it belongs to every product we certify.
Ultimately, we hope to change the norm so that every product on shelves is made without harmful ingredients. In the meantime, the Made Safe Hazard List arms shoppers with knowledge for protecting their health.
Or, as we like to say, it's always better to be MADE SAFE than sorry.