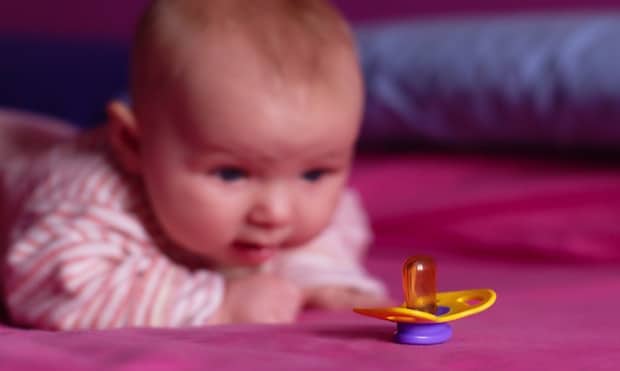 It is not uncommon for moms (and dads) to clean their baby's pacifier by sticking it into their own mouth or to share spoons when feeding their infant. Yet these loving parental moves may expose children to cavity-causing bacteria that can have a lasting negative impact on a child's life.
That's the word from Liliana Rozo, DDS assistant professor at the University of Louisville School of Dentistry.
But wait: there was another study in Pediatrics (2013) in which the authors reported that parents who sucked on their infants' pacifiers to clean them could reduce the risk of their children developing allergies and asthma. According to those experts, the transfer of good bacteria from parent to child might stimulate the immune system to fight off these health problems.
So what should moms and dads do?
It's critical for parents to follow good oral hygiene practices for themselves as well as for their babies. Parents who maintain healthy gums and teeth are much less likely to pass along cavity-causing bacteria to their infants. On the other hand, bleeding gums, inflammation, poor brushing and flossing habits, and tooth pain are indications of a less than desirable environment to share with a child.
Read about natural ways to care for your teeth
In addition, since dental cavities are all-too-common among young children-40 percent have cavities by the time they reach kindergarten, according to another recent study-moms would be wise to begin practicing good oral hygiene for their infants long before they experience their first tooth, which typically begins to erupt at about age 6 months. That means:
Not putting the infant to bed with a bottle that contains milk, formula, juices, or other beverages that contain sugars
Removing the baby bottle from a child's mouth as soon as he or she has finished feeding
Making an appointment with a pediatric dentist who can conduct an examination and explain the ins and outs of teething, normal development of baby teeth, nutrition, and oral hygiene habits. The American Academy of Pediatric Dentistry stresses that parents should make this visit as soon as a child's first tooth appears.
Moms are recommended to get a dental evaluation from their dentist by the time their child is 6 months old to determine if their dental history will cause problems for their infant. A mother's dental past can predict her child's future dental problems.
Read about switching to natural toothpaste
An infant's mouth has the potential to contribute to or cause cavities since it is a reservoir of hundreds of different species of bacteria. Well-meaning moms (and dads) may enhance that potential if they introduce more bacteria from their own mouths. That's why it's important not only for parents to maintain their own dental health but for them to also make sure they seek dental care for their baby even before that first tooth appears.
Image: gothormor