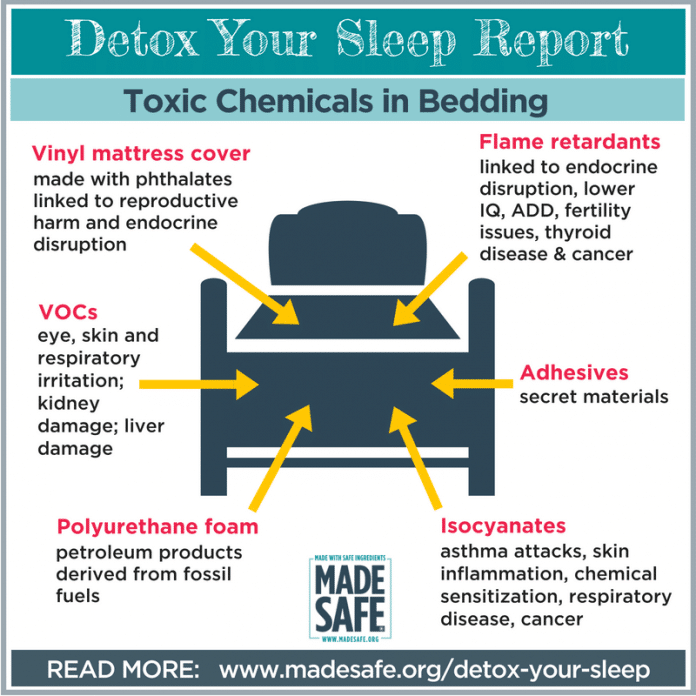 We spend eight hours each night sleeping-totaling almost one-third of our lives. During that time, our bodies do the critical wellness work of healing, resting, and rejuvenating.
But our mattresses and bedding can contain chemicals that can actually have negative health effects, adding unnecessary work to the task of rejuvenation and potentially limiting the body's innate ability to preserve our health-not to mention expose us to toxic chemicals linked to cancer, fertility problems, hormone disruption, and more.
The problem is that it's hard for people to figure out which bedding is safe and what's not, with no labeling and little information out there. In fact, it might be one of the least talked-about health issues out there…which means it's a story prime for telling.
Enter Detox Your Sleep, a new ground-breaking report from Made Safe on toxic chemicals in bedding and safer alternatives. It's a first-of-its-kind report to look at the materials that make up what we sleep on and how they affect our health, with a comprehensive look at the safer alternatives.
Find out if you are sleep deprived
For example, did you know:
Most mattresses are made of polyurethane foam, which is treated with flame retardants, linked to endocrine disruption, lower IQ, hyperactivity, altered sexual development, fertility issues, thyroid dysfunction, and cancer.
Because polyurethane foam is highly flammable, the addition of flame retardant chemicals is necessary to meet mattress flammability standards. Natural materials like wool and cotton are generally less flammable than polyurethane foam, so they don't require extra flame retardants.
Foam mattresses off-gas volatile organic compounds (VOCs), including a chemical manufactured with phosgene, a poisonous gas originally used as a chemical weapon in WWI that was responsible for the majority of deaths.
Baby mattresses are often made with waterproof vinyl, which can off-gas plasticizing phthalates and harmful VOCs directly into the baby's sleep environment.
Sheets labeled "wrinkle-free," "no wrinkle," "no iron," and other terms can contain a finish of formaldehyde, which is a known carcinogen.
Learn more about household items that contain harmful chemicals
Check out Detox Your Sleep for safer alternative materials, and MADE SAFE certified* bedding options from Naturepedic, Coyuchi, and other brands.
*The MADE SAFE® seal means that a product is literally made with safe ingredients not known or suspected to harm human health, animals or ecosystems. Certified products are examined by scientists to ensure they're made without known behavioral toxins, carcinogens, developmental toxins, endocrine disruptors, flame retardants, heavy metals, neurotoxins, high-risk pesticides, reproductive toxins, toxic solvents, or harmful VOCs. MADE SAFE then goes above and beyond: Ingredients have been further examined by a chemist for bioaccumulation (builds up in our bodies), persistence (builds up in the environment), ecosystem harm, and general and aquatic toxicity, making it the leading standard in the country.