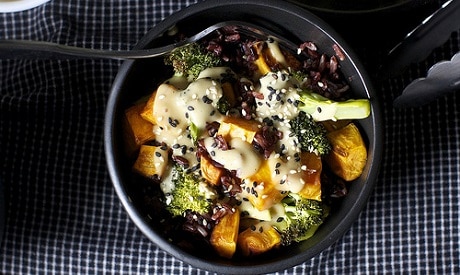 Sweet potatoes are one of nature's superfoods. Adding them to your diet on a regular basis will provide you with loads of vitamins and minerals necessary in a healthy diet. Just one sweet potato (with the skin on) provides you with more than four times the recommended daily value of vitamin A as well as 37 percent of the recommended daily intake of vitamin C and 28 percent of your magnesium intake, plus many more. They are also an excellent source of the key antioxidant beta-carotene. All of these vitamins and minerals make sweet potatoes a great disease fighting food than can help control blood sugar levels, reduce inflammation, and boost cognitive function.Read more about vitamins and minerals
And just when you thought sweet potatoes couldn't get any better, now is the time to get them fresh at your local farmer's markets. This means it's the perfect time to load up on them and experiment with enjoying them in new ways. Here are ten recipes to do just that!
1. Miso Sweet Potato and Broccoli Bowl
2. Sweet Potato and Kimchi Pancakes
3. Sweet Potato Ravioli with Brown Butter
4. Sweet Potato and Kale Pesto Pizza
5. Lentil, Mushroom, and Sweet Potato Shepherd's Pie
6. Whipped Sweet Potatoes with Bananas and Honey
7. Sweet Potato and Spinach Quesadillas
9. Gingered Sweet Potato and Carrot Soup
10. Roasted Sweet Potato and Onion Tart
As you can see, sweet potatoes can be enjoyed at just about any time of day as a main dish or side dish. You can even enjoy some sweet potato pie for dessert-it may not be healthiest way to devour them, but if you're going to enjoy dessert you might as well have one that offers some nutritional benefits.
Whenever possible, purchase your sweet potatoes from a local organic farm, but even if you can only get them from the grocery store, be sure to add this superfood to your diet and don't reserve it only for Thanksgiving dinner.
Read more about superfoods
Photo: Deb Perelman/Smitten Kitchen
Resources:
"Sweet Potatoes." WHFoods.