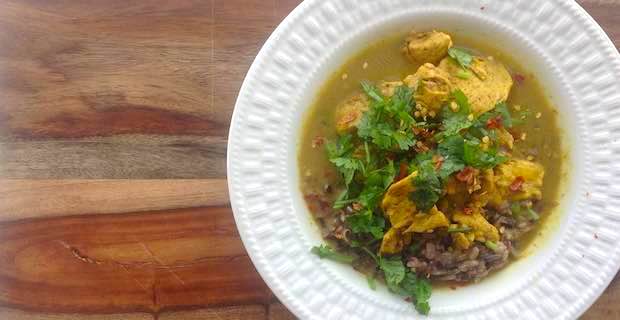 You don't get a better tasting meal than this chicken coconut curry recipe with wild rice.
This is a warming, healing dish and a great meal option if you are feeling a little under the weather. Thick, rich coconut milk is highly nutritious; it contains hydrating electrolytes, filling fiber and abundance of various B vitamins, vitamin C and vitamin E. It also contains medium chain saturated fats, which are rapidly absorbed by the body providing a lasting energy source. Coconuts contain high amounts of lauric acid, a compound that is both an anti-bacterial and anti-viral.
Curry is a combination of spices that are mostly anti-inflammatory. The beautiful yellow hue comes from turmeric, which has an active component called curcumin. Research has linked curcumin to a reduction of arterial plaque and inflammation in joint tissue. Curcumin has also been shown to stimulate anti-cancer activity. Combined with garlic cloves you have a powerful immune boosting and flavorful meal!
Ingredients
1 can organic coconut milk/cream
3-6 organic chicken breasts
½ cup sweet onion or 3 shallots
1 tbsp Barlean's coconut oil
2-3 garlic cloves
3-4 tbsp curry powder
½ tsp sea salt
1½ cup wild rice
fresh cilantro, fresh parsley, arugula, and chili flakes, to taste
Read more about fighting inflammation with food
Directions
In a large skillet sauté onion and garlic clove in coconut oil until onions are glassy. Cut chicken breasts into strips and sauté them in onion, garlic and oil mixture until almost done. Add in curry powder and sea salt. Toss mixture until coated with spices. Add the can of coconut milk/cream. Boil on low heat until flavors have blended, approximately 45 minutes.
In a separate pan cook the wild rice. Top with water covering rice by ½ inch. Bring to water to a boil and reduce heat. Cook until water is almost entirely evaporated. The longer the rice cooks the stickier the consistency becomes, add less water if you prefer a more grainy consistency. Place a medium size scoop of wild rice into a serving bowl and add a generous portion of chick curry mixture. Top with fresh cilantro, parsley, arugula, and chili flakes. Serves 2 to 3.
Image: Louise Van Blyderveen