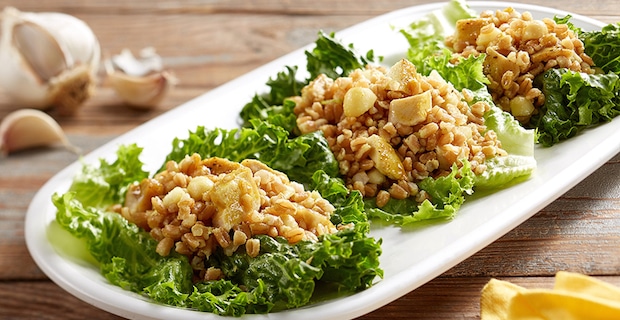 Summertime meals seem to shout-out for salads, but opting for the same ol' salad can get boring. Spice things up a little with this healthy and hearty curried chicken salad recipe. Farro is a wholesome whole grain high in fiber and protein, and macadamia nuts provide heart-healthy fats and an additional fiber and protein boost. Topped with yummy curried chicken, this super salad is sure to keep things interesting.
Ingredients
2 cups skinless, boneless organic chicken thighs, cooked and chopped
1 + ¾ tsp organic curry powder
¼ + 1/8 tsp salt
¼ cup Ellyndale Organics Coconut Infusions Garlic Flavor, melted
2 tsp. organic apple cider vinegar
2 cups NOW Real Food Organic Farro, cooked
½ cup NOW Real Food Organic Macadamia Nuts, chopped
Read more about the health benefits of apple cider vinegar
Directions
Preheat oven to 350 F. Season chicken thighs with 1 tsp curry powder and ¼ tsp salt. Place on a cookie sheet in preheated oven for 25 minutes. Remove chicken from the oven and cool for an additional 10 minutes. In a small bowl, whisk together garlic infused coconut oil, cider vinegar, remaining ¾ tsp curry powder, and remaining 1/8 tsp. salt until fully combined. In a separate bowl, combine chicken, farro, and macadamia nuts. Add garlic-infused coconut oil mixture and toss until chicken mixture is fully coated. Serve cold or in lettuce wraps and enjoy! Serves 8.
Recipe and image courtesy of NOW Foods.