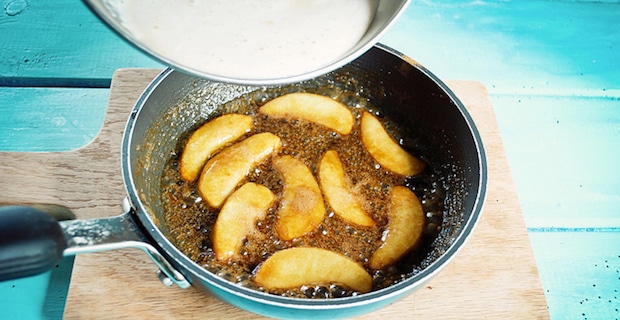 Apples are a great source of soluble fiber and are full of antioxidants like vitamin C. Flax oil, too has numerous health benefits, most notably an abundance of essential omega-3 fatty acids. This tasty recipe is also good with pears used in place of apples.
Ingredients
6 medium apples, peeled and quartered
1 tbsp butter
5 tbsp pure maple syrup
¼ tsp ground cloves
1½ tsp cinnamon
1 cup plain organic yogurt
4 tbsp Barlean's organic flax oil
2 tbsp chopped walnuts to top
Read more about how organic apples keep you healthy
Directions
Cut each apple quarter into 4 slices. Sauté the apples in the butter for 5 minutes. Add 4 tablespoons of the maple syrup, the cloves, andone half of the cinnamon. Stir to coat the apples. Cook about 7 minutes more, until the apples are tender and the syrup thickens. Transfer to a medium bowl and chill for 1 hour. In another medium bowl, combine the yogurt, the remaining maple syrup and cinnamon, and theflax oil. Stir to an even consistency. Chill for at least 1 hour. When ready to serve, place the apple mixture in individual bowls. Spoon the yogurt mixture on top and sprinkle with the walnuts.
This recipe compliments of Barleans.
Image: Claire Sutton