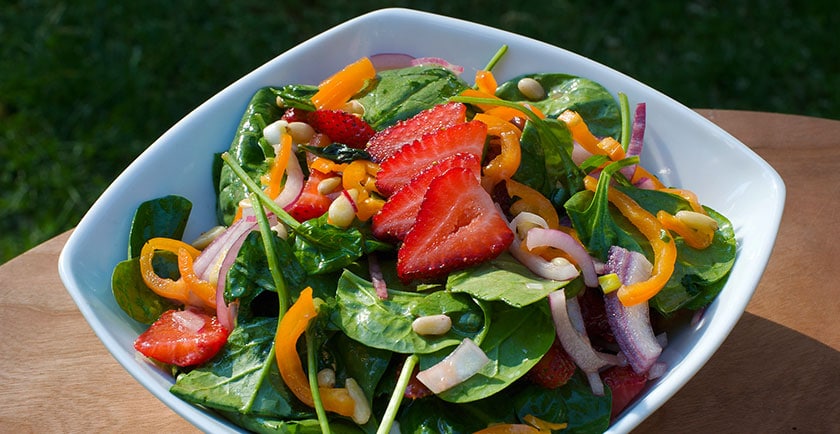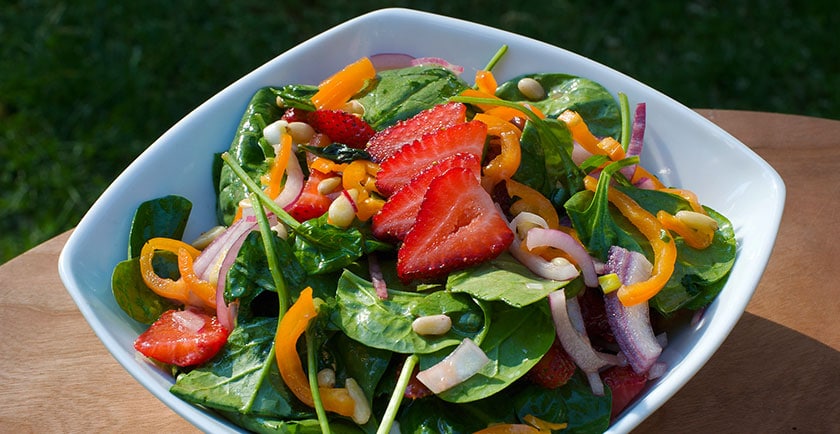 Strawberry Spinach Salad Recipe
This salad is a perfect blend of sweet, sour and savoury. The spinach is one of the richest sources of lutein, which protects your vision. The yellow bell pepper is full of vitamin C for immune protection. Together with the strawberries, you get your RDA of vitamin C in just one serving of salad! For more info on strawberries, click here. For more info on spinach, click here.
Read More: 13 Reasons to Eat Berries Right NowIngredients
4 cups baby spinach
1 medium red onion, finely sliced
1 large yellow pepper, finely sliced
2 cups strawberries, sliced
½ cup pine nuts or hemp hearts
Dressing
¼ cup organic olive oil
¼ cup apple cider vinegar
½ teaspoon pink or gray sea salt
Directions
1. Layer veggies in a bowl and top with berries and pine nuts.
2. Mix dressing ingredients in a mason jar and pour over the salad.
Reprinted with permission by Julie Daniluk RHN and Random House Canada / ©Slimming Meals That Heal 2014. Visit juliedaniluk.com for more information. Connect with Julie on Facebook at Julie Daniluk and on Twitter @juliedaniluk