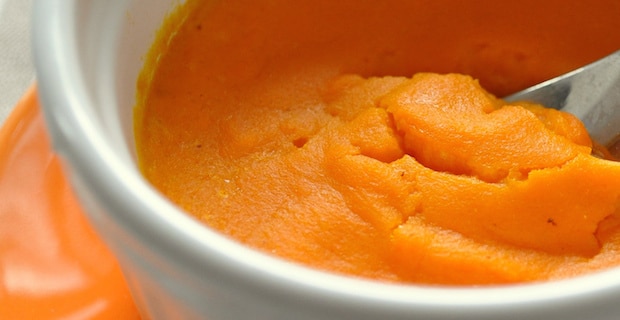 Squash is a healthy food choice because it is packed full of nutrients and fiber. Sweet potatoes, too, boast sweet health benefits, like high amounts of beta-carotene, vitamin C, and magnesium. Flax seed oil, added to this dish once it is done cooking, is high in the oh-so-important omega-3s, and this quick and easy side dish is the perfect way to add more omega fats to your diet.
Ingredients:
2 large acorn squash, halved
2 large or 4 medium yams (sweet potatoes)
½cup fresh orange juice
1 tbsp pure maple syrup
cinnamon, to taste
grated nutmeg, to taste
3 tbsp Barlean's Organic Flax Oil
Read more about the nutrition of squash
Directions:
Bake the squash and yams for 45 minutes to 1 hour or until tender. Scoop out the squash from the skins and place in a large mixing bowl or food processor. Remove the yam flesh from the skins and add to the squash. Add the orange juice, maple syrup, spices, and flax oil. Whip or mash together.
Recipe courtesy of Barlean's.
Image: Frédérique Voisin-Demery