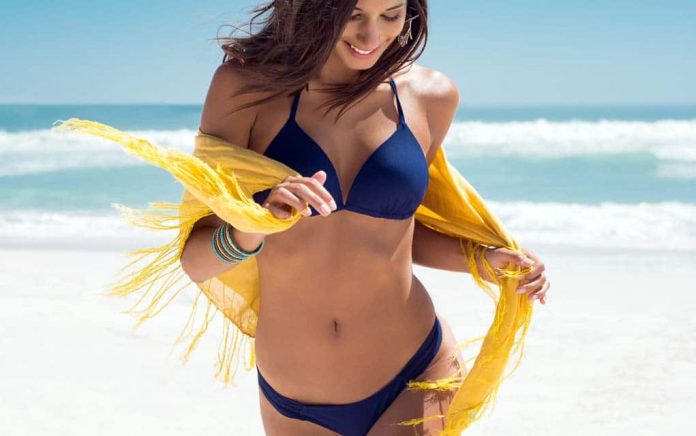 As we head into bikini season, many of us are contemplating how we're going to magically transform that pasty white figure into one that resembles a warm, tropical glow. Self tanner products are often a popular choice.
With skin cancer claiming one in every three cancer diagnoses and indoor tanning beds increasing our chances of developing melanoma by 20 percent, our options are limited.
But thanks to the invention of self tanning products, we no longer have to stress about our summer debuts. With just a squirt of bronze solution and a quick, thorough rubdown, we are now one step closer to Brazilian model material without exposing our sensitive skin to the sun's harmful rays. Plus, a healthy summer glow can help to hide skin imperfections, diminish the appearance of fine lines and wrinkles, and even make us look thinner (score!).
Still, while it seems that self tanner products solve a huge conundrum for humankind, the ingredients that make up many conventional products present yet another one: exposing us to harsh chemicals that are not-so-good for human health.
Popular self tanner formulas are known to contain a toxic soup of potentially harmful chemicals added to stabilize or preserve for a longer shelf life. Many products contain parabens, a type of synthetic preservative linked to breast cancer, and oxybenzone, a chemical that messes with our hormones and may actually increase our risk of skin cancer. Some self tanner formulations even contain ingredients known to release formaldehyde as they break down, such as diazolidinyl urea and DMDM hydantoin.
Read more about healthy summer skin
A yucky situation indeed, conscious manufacturers have started to sense a need for something less toxic, making our pool of options much deeper. Here are a few self tanner products that are sure to make this summer a hit.
* Indicates vegan product
Chocolate Sun Absolute Sun Sunless Tanning Cream*, $40. This hydrating sunless tan cream uses green tea to fight the aging process and offers a deep, rich color that won't make you look like an Oompa Loompa all summer long. Visit Spiritbeautylounge.com.
Lavera Self Tanning Lotion*, $32. Named by Elle Magazine as the 2013 Green Self Tanner of the Year, Lavera's Self Tanning Lotion is made with natural, certified organic ingredients, and essential oils. It takes the cake for giving you a streak-free tan in less than three hours. Visit Lavera.com.
Jane Iredale Tantasia Self Tanner & Bronzer*, $36. If you have fairer skin and a little more to spend, Tantasia gives you a very natural looking summer glow that increases with use. The non-greasy formula also doesn't leave you with the sticky feeling synonymous with many self tanners. The only complaint with some users is the overly citrus smell, but others love it. You be the judge. Visit Janeiredale.com.
Read more about the safest sunscreens
True Natural Self Tanner Face & Body, Light-Medium Tan*, $17.99. For those who like a happy medium, True Natural's popular self tanner makes for a soft tan from head to toe. The cruelty-free formula also contains natural anti-aging ingredients like green tea extract and aloe vera for vibrant skin, and a fresh lavender scent from essential oils. Visit Truenatural.com.
Alba Botanica Very Emollient Sunless Tanner, $11.49. Alba Botanica's tan-in-a-bottle isn't as clean as can be, but it's a healthier solution if you are looking for an affordable self tanner in a pinch. The non-greasy formula makes your skin feel nice and moisturized with no parabens or phthalates. Visit Albabotanica.com.
Tip: Whichever natural self-tanner you choose, opt for a cream or lotion over spray products. Some studies have shown that the active ingredient in sunless tanners, dihydroxyacetone, or DHA, can irritate lungs and may damage DNA when inhaled. DHA has also been shown to increase the production of free radicals when exposed to the sun, which can up your risk of skin cancer. So, be smart and always apply sunscreen before going outdoors.