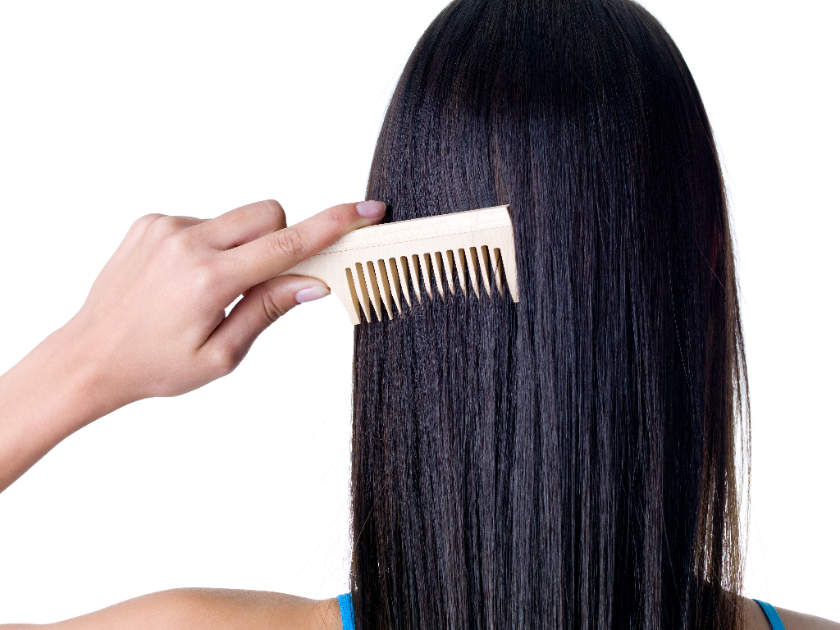 There is something wonderfully satisfying about a thick head of hair, whether it be long or short or somewhere in between. Achieving and maintaining thick hair, however, can be challenging due to a number of factors, including genetics, diet, the hair products and devices (e.g., curling irons, blow dryers) we use, and how we comb, brush, or otherwise tug at our locks.
How to thicken hair naturally
Have you noticed your hair is a little thinner lately? Would you like to do something about it? Then you're in the right place! Fortunately there are numerous natural ways you can get thicker hair. A few have some scientific basis while others are popular largely because of anecdotal reports. Results will vary from person to person so please let us know if you try and of the following:
Natural hair thickeners
1. Eggs. Hair is made of protein (keratin), so it seems logical that eating eggs (a high protein food) will provide needed nourishment for your hair from the inside out. This is true, but you also can apply eggs topically to help protect and strengthen your hair. The simplest way to do this is to beat 1 or 2 eggs and apply them to your damp hair and scalp. You may want to put on a shower cap, as you need to leave the eggs on for about 30 minutes. After 30 minutes, wash your hair as you normally do. Try this routine once or twice a week for one to two months for best results.
Read about female hair loss causes and treatment
2. Protein and fatty acids. If you want to help thicken your hair from the inside out, it is important to ensure you are getting sufficient protein and fatty acids in your diet. Lean dietary protein (e.g., beans and legumes, pea protein, nuts, lean organic meat and fish, and organic soy) helps produce keratin, the protein that makes up hair. Add omega-3 fatty acids (e.g., fatty fish such as salmon and sardines, roasted soybeans, chia seeds, walnuts) to the recipe, along with iron and zinc, and you can help thicken your locks with every meal.
3. Olive oil. When applied to your scalp, nutrient-rich olive oil not only can help thicken hair, it also is a softener and restores dry scalp and split ends. Warm up a tablespoon or two or olive oil (depending on the amount of hair you have) and massage it into your scalp and hair. Leave the oil in your hair for 30 to 45 minutes, then wash your hair as usual. Some people leave the oil on their hair overnight and wear a shower cap (and a pillow cover to capture any possible leakage)!
4. Aloe vera. You can find several commercial products for the hair that contain aloe vera, but you also can DIY. Rub aloe vera gel directly onto your damp scalp, massage it in, and let it sit for about 30 minutes before you wash your hair. Try this remedy once or twice a week. [Editor's Note: We recommend aloe vera gel from our partner Lily of the Desert.]
5. Oranges. We all know oranges are a great source of vitamin C and antioxidants, but they also may enhance your hair. The acid in these citrus fruits helps break down residue left behind from shampoos, conditioners, and other hair products that can interfere with your hair's health.
Create an orange puree by processing several whole oranges in a blender and applying the puree to your scalp. Massage in the puree and leave it on for one hour before you rinse it out. An alternative is to add an apple to the blender. Shampoo as usual. One benefit of orange puree is the delicious smell!
6. Avocado. The vitamin E and natural oils in avocado make this natural hair thickening remedy a great moisturizer as well. Combine one tablespoon of olive oil and the fruit of one avocado and apply the mixture to your scalp and hair. Keep it on for at least 30 minutes, then rinse thoroughly and wash your hair. Try this once a week.
Read about hair loss remedies for men
7. Onion juice. Here's a hair thickening remedy that has been tested scientifically, albeit a small study. A Journal of Dermatology article reveals that nearly all of the 38 people with alopecia areata (an autoimmune disorder that causes hair loss) who used onion juice on their scalp twice daily for several weeks experienced hair regrowth. Hair regrowth began after only two weeks of using the onion juice. The authors speculated that the onion juice may help because it contains sulfur, which is found in keratin, and thus may provide nourishment to the hair follicles while also reducing breakage and thinning.
If you want to try onion juice, peel and chop up 3 to 4 onions and use a juicer to extract the juice. You also can place the onion pieces in a blender and create a paste. Place the onion paste in cheesecloth and squeeze out the juice. Apply the juice to your scalp and leave it on for about 10 minutes, then wash your hair or rinse out the juice. You can add a few drops of essential oil (e.g., peppermint, rosemary, lavender) to the onion juice to help with the smell. Onion juice should be used daily for several weeks in order to be effective. This remedy may not be for the faint of smell, but it could increase your hair volume!
If you have any allergies, you should test these natural hair thickening remedies on another area of your body (e.g., the inside of your elbow or behind your ear) before you apply it to your scalp and hair. If you are experiencing a sudden loss of hair or thinning, you should consult a knowledgeable healthcare provider to determine if there is a medical reason. Otherwise, these natural remedies can be a safe and low-cost way to thicker hair.
For more information on living healthy, be sure to subscribe to our newsletter:
Sources

Sharquie KE, Al-Obaidi HK. Onion juice (Allium cepa L), a new topical treatment for alopecia areata. The Journal of Dermatology 2002 Jun; 29(6): 343-46