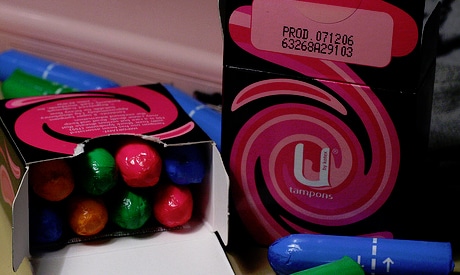 In my toxic tampon research study, I talked about how conventional cotton, the most heavily sprayed crop in existence, is used in the tampons that women use each and every month. Cotton crops make up just 2.4 percent of the world's land, but each year a whopping $2 billion is spent on pesticides to spray this one crop. But I wanted to take it a step further and find out what kinds of pesticide residue could actually be found on conventional tampons–so we had OB tampons tested by a third party testing facility to find out.
Here's what we found:
OB Tampons
Dichlorvos – 0 ppm
Methacriphos – 0 ppm
Omethoate & Dimethoate – 0 ppm
Chlorpyriphos-ethyl – 0 ppm
Methyl Paraoxon & Methyl Parathion – 0 ppm
Malaoxon & Malathion – 1 ppm
Heptachlor – 0 ppm
Dichlofluanid – 1 ppm
Mecarbam – 6 ppm
Procymidone – 37 ppm
Methidathion – 5 ppm
Fensulfothion – 5 ppm
Pyrethrum – 66 ppm
Piperonyl Butoxide – 1 ppm
Brompropylate – 0 ppm
Permethrin & Isomers – 0 ppm
After finding out which pesticides were present, I carried out another research study, this time looking at the potential side effects of each pesticide.
Malaoxon & Malathion
Even though our test sample showed only minimal amounts, it's particularly toxic.
Look at this frightening example of the damage this pesticide can do:
"In 1998 in Florida, an outbreak of Mediterranean fruit flies (Medflies) threatened to significantly decrease agricultural yields. In an effort to minimize damage, the Medfly Eradication Program was implemented by federal and state authorities.  Malathion and another organophosphate, diazinon, were applied to areas of concern.  Within 5 months of application, 123 people reported symptoms consistent with pesticide exposure, such as respiratory distress, gastrointestinal distress, neurological problems, skin reaction, and eye distress (#CDC 1999)."
Malathion is normally used on blueberries, raspberries, strawberries, limes, cotton, cherries, garlic, greens, dates, and celery and can pose a mutagenic risk to humans chronically exposed, even damaging DNA. It's highly toxic to aquatic organisms and bees. It's listed by the EPA as a carcinogen and the EU considers it an endocrine disruptor.
Dichlofluanid
It's a fungicide and insecticide that's moderately toxic to humans. It may cause skin sensitization, eye irritation, and lung damage (if swallowed). And though it's not likely to be carcinogenic to humans, it's very toxic to aquatic organisms.
Mecarbam
Mecarbam is highly toxic and can inhibit the ability of the nervous system to function causing uncontrollable movements, muscle twitching, weakness, tremors, incoordination, and convulsions. It can also cause headaches, dizziness, nausea, vomiting, abdominal cramps, and diarrhea along with tightness in the chest, wheezing, productive cough, fluid in lungs, and blurred vision.
Mecarbam can cross the placental barrier. The placenta can't filter out all environmental toxins including some pesticides, specifically mecarbam, as well as PCBs, perchlorate, bisphenol A (BPA), lead, and mercury. Severe cases of poisoning cause seizures, incontinence, respiratory depression, and loss of consciousness.
Procymidone
Found in relatively high amounts in our sample, it's poisonous if absorbed through the skin, inhaled, or swallowed. It's a possible liver and testes toxicant, which may also cause reproductive and developmental toxicity. It causes birth defects in some animals.
Procymidone is listed on the State of California Propositions 65 Carcinogen List and the EPA's carcinogen list. It's also listed on the EU list of potential endocrine disruptors.
Methidathion
Methidathion is banned in the EU. The EPA has classified the compound as a possible human carcinogen. Used in fruits, vegetables, tobacco, alfalfa, and sunflowers, it's poisonous to humans because of its capacity to interfere with enzymes related to breathing and other nervous system activities. It's also highly toxic through dermal exposure. It's known to cause adverse reproduction in rats and liver tumors in male mice. And it's highly toxic to birds, aquatic organisms, and honey bees.
Fensulfothion
It's highly toxic to mammals when absorbed through the skin, inhaled, or ingested. It can cause skin irritation, nausea, vomiting, abdominal cramps, diarrhea, headache, dizziness, weakness, chest tightness, and blurred vision. It's also highly toxic to aquatic life.
Pyrethrum
It was the main pesticide used in our sample. Pyrethrum is a natural insecticide produced with certain species of the chrysanthemum plant. However, it's still listed on the EPA's carcinogens list. It's used primarily to control human lice, mosquitoes, cockroaches, beetles, and flies.
Inhaling high levels of pyrethrum may bring about asthmatic breathing, sneezing, nasal stuffiness, headache, nausea, incoordination, tremors, convulsions, facial flushing, swelling, burning, and itching sensations. Animals fed large doses of pyrethrins may experience liver damage. It's extremely toxic to aquatic life and bees.
Piperonyl Butoxide
Though it was only found in low amounts in our sample, piperonyl butoxide is a synthetic insecticide that inhibits the ability of insects to metabolize certain insecticides. It's used on food crops and livestock, and as a household insecticide. It generally has a low toxicity in humans through any route of exposure except ingestion, which can cause vomiting and diarrhea. It's moderately toxic to many species, including honeybees. EPA lists it as a possible human carcinogen and it's on the EU's list of possible endocrine disruptors.
In response to this research, Alexandra Scranton, Director of Science and Research for Women's Voices for the Earth says, "The presence of detectable pesticide residue in cotton tampons is concerning.  These chemicals pose an unnecessary potential risk to women's health.  We can and should do better.  At the very least women should be informed of the substances they are directly exposed to through tampon use."
By looking closely at not only which pesticides were found in conventional tampons, but also their potential health and environmental side effects, this research will forever demystify the term "pesticide residue." There's a lot more to your conventional cotton tampons than just cotton. More accurately, they're a toxic soup of eight different forms of pesticides.
Read More:
Conventional Feminine Hygiene Products: A Women's Issue with Toxic Implications
Sign our Petition: Tell Procter & Gamble to Disclose What is in Their Feminine Hygiene Products
A Tampon Experiment: A Picture Tells the Tale
Rayon: What You Need to Know About This Fiber & Your Health
Photo Credit: Kate Raynes-Goldie