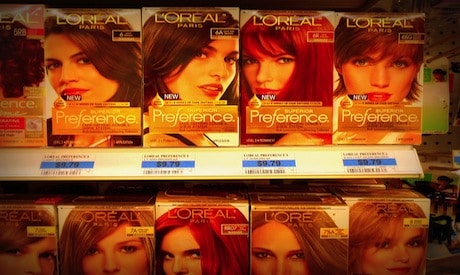 In this modern world naturally gorgeous hair can only last so long. Guys if you're lucky, you can maintain a full head of it well into your golden years. It turns grey but lucky for you, that's "distinguished." Us ladies on the other hand, we know there's a bit of a double standard. Grey hair is unbecoming. It makes us look old and tired, and forget about being called sexy (by the masses, anyway) with a full head of grey hair. By our 40s most of us women have dyed our hair at least once but many of us will do it regularly. Call it a sacrifice or a plain fact of life, but just because it's routine doesn't exactly mean it's healthy. Do you know what's in your hair dye? Do you think that its safe?
While some women prefer the professional salon treatment many women color their hair at home. It's cheaper, easier and more discreet. Either way it's a simple procedure that seems rather safe or harmless. But just get a whiff of the potent chemicals and your nose should tell you otherwise.
The Environmental Working Group investigated more than 23,000 cosmetic products and found that close to one out of every 20 products fails to meet cosmetic safety standards. This includes the presence of chemicals banned in other countries which are also present in close to 400 common products.
According to Care2, here are some of the ingredients banned by the European Union that are common in hair dye products found in a number of brands sold in the U.S.:
6-Methoxy-2,3-Pyridinediamine
2,3-Naphthalenediol
2,4-Diaminodiphenylamine
2,6-Bis(2-Hydroxyethoxy)-3,5-Pyridinediamine
2-Methoxymethyl-p-Aminophenol
4,5-Diamino-1-Methylpyrazole
4,5-Diamino-1-((4-Chlorophenyl)Methyl)-1H-Pyrazole Sulfate
4-Chloro-2-Aminophenol
4-Hydroxyindole
4-Methoxytoluene-2,5-Diamine
5-Amino-4-Fluoro-2-Methylphenol Sulfate
N,N-Diethyl-m-Aminophenol
N,N-Dimethyl-2,6-Pyridinediamine
N-Cyclopentyl-m-Aminophenol
N-(2-Methoxyethyl)-p-phenylenediamine
2,4-Diamino-5-methylphenetol
1,7-Naphthalenediol
3,4-Diaminobenzoic acid
2-Aminomethyl-p-aminophenol
Solvent Red 1 (CI 12150)
Acid Orange 24 (CI 20170
Acid Red 73 (CI 27290)
While those are a lot of chemicals worth avoiding in order to be safe, there are also several other common ingredients in conventional home hair dyes that you should also be weary of. Several natural hair dye alternatives exist but because the word "natural" is not regulated, be sure to look out for the following ingredients as well:
P-Phenylenediamine (PPD): This is the chemical that gives you your color. The darker the dye, the more PPD you'll typically find. It's even in natural products and widely used in about two-thirds of all hair care products. It's been linked to neurological and immune system issues as well as causing damage to the lungs, liver and kidneys.
Coal tar: This brown or black liquid is found in all dark permanent dyes and in many strong dandruff and psoriasis shampoos. Studies have also linked it to the development of cancer in lab animals.
Lead acetate: While it may give your hair a nice dark color it's also a known reproductive toxin which is banned in the European Union because of its health risks.
Resorcinol: This bleaching agent is the leading cause of hair dye allergies and skin irritation. It is also toxic to the immune system. Also, here's an interesting note. Because the federal government classifies it as hazardous it is regulated in the workplace, but there are no regulations for it in personal care products.
When it comes to dyeing your hair, please be safe!  Andrea Donsky is a Registered Holistic Nutritionist (R.H.N) and co-founder of NaturallySavvy.com. Andrea has dedicated her life to sharing her passion for living a naturally and healthy lifestyle with the world, while helping to guide others through the confusing maze of 21st century supermarkets and fad diets. She is co-author of Unjunk Your Junk Food and a 'Parent Ambassador' for Healthy Child Healthy World.
Photo Credit: dino1967b