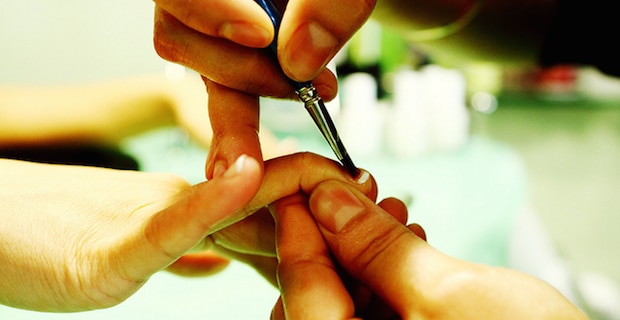 For many women, the beauty of a manicure and pedicure comes at a terrible price. Although those who are on the receiving end of these beauty treatments face some health risks, the price is mostly paid by those who provide these salon services, and the cost can include devastating health problems and even death. In addition, the women often are forced to work excessively long hours, without pay during training, and below minimum wage once they are hired.
Currently there are few published scientific studies showing the relationship between the use of nail products by salon workers and health problems, but the anecdotal evidence is horrifying. A new report in the New York Times related the personal stories of manicurists who have suffered from unusually high rates of a wide variety of health ailments, ranging from respiratory and skin conditions to miscarriages, birth defects, low-birth weight infants, Hodgkin's disease, leukemia, and a form of cancer called multiple myeloma.
Read more about dangerous chemicals in personal care products
The ugly side of manicures and pedicures is not limited to the United States. North of the border, a CTV News story commented on the New York report. Anne Rochon Ford, co-director of National Network on Environment and Women's Health, said "The degree of the problem, as far as we know, is comparable here. We can't say for sure how bad the situation is."
Why is this happening? One reason is that the manufacturers of nail salon products are not required by federal law to reveal safety information with the Food and Drug Administration (FDA). In fact, the FDA states that "Cosmetic products and ingredients do not need FDA premarket approval with the exception of color additives," and "the law also does not require cosmetic companies to share their safety information with the FDA."
Basically, cosmetics makers are free to market whatever they want. If anyone questions the integrity of their nail products, as was done by a coalition in California, the cosmetic industry has stepped in and blocked those efforts.
In the meantime, the manicurists, who are often women from Vietnam, the Philippines, Asia, and South and Central America, are exposed to high levels of chemical fumes and solvents as they paint, polish, and file nails of clients day after day. These worker see doctors and complain about an inability to breathe, constant nose bleeds, painful throats, skin disorders, fungal infections, warts, and persistent coughs.
In addition, there are repeated reports of miscarriages, children born with significant developmental problems, and other maternal complications among women who work as manicurists. A study in the International Archives of Occupational and Environmental Health recently reported on the impact of chemical exposure among women working as manicurists and cosmetologists in California. The authors noted an association for small for gestational age among Vietnamese manicurists when compared with other working women. In addition, there was an increased risk of gestational diabetes and placentia previa when compared with the general population.
Toxic nail products
In a nail salon safety publication published by the Environmental Protection Agency, there is a list of 20 common nail product ingredients that are known to cause health problems. Seventeen of those ingredients are associated with respiratory problems, such as asthma-like symptoms. In a study of nearly 1,900 manicurists, cosmeticians, cosmetologists, and barbers in Colorado, researchers found that application of artificial nails (as well as hairstyling and shaving) were associated with a nearly threefold increased risk of developing asthma.
In addition, other symptoms associated with these nail product ingredients include shortness of breath, burning throat, labored breathing, and cough. Most of the ingredients are known to cause headache, eye and skin irritation, and dizziness, and several are carcinogens. Of the known toxins, three are especially hazardous to nail salon workers.
Dibutyl phthalate: This chemical is used in nail polish and other items to make nails pliable. Overexposure to this toxin can irritate the eyes, upper respiratory tract, and stomach, while prolonged exposure can have a negative impact on human reproduction and development. Although dibutyl phthalate is banned in cosmetics in the European Union and will soon be prohibited in Australia, it is still allowed in the United States. Dibutyl phthalate has been associated with reproductive disorders. A study in the Journal of Occupational and Environmental Medicine noted that manicurists can reduce their exposure to this toxin by wearing gloves.
Toluene: This solvent helps nail polish go on smoothly, but its health hazards are anything but. The Food and Drug Administration notes that toluene overexposure can irritate the eyes and nose and cause weakness, confusion, dizziness, headache, dilated pupils, runny eyes, insomnia, rash, exhaustion, numbness and/or tingling, muscle fatigue, and abnormal feelings of euphoria. More serious overexposure can damage the liver and kidneys and have a negative impact on the developing fetus.
Formaldehyde: It's likely no coincidence that this chemical, which is used in embalming and as a hardening ingredient in nail products, also has been named as a human carcinogen by the National Toxicology Program in the United States. The European Union has banned it from cosmetics by 2016, but formaldehyde is still used in the United States.
Read more about formadehyde in cosmetic products
The cosmetics industry insists these ingredients are not dangerous. When considering the three main toxins just mentioned, Lisa Powers, a spokeswoman for the Personal Care Products Council, insisted that they "have been found to be safe under current conditions of use in the United States."
The cosmetics industry has strongly lobbied Congress to prevent regulation of their products, and so far they have been successful. Even the Occupational Safety and Health Administration, the federal agency that determines chemical exposure levels in the workplace, has stated that manicurists are not exposed to excessive levels of chemicals. Health experts, however, say the set limits are not strong enough and that workers are still working in dangerous conditions
Who is helping the nail salon workers?
Although the EPA has issued guidelines for Protecting the Health of Nail Salon Workers, salons are not required to follow them. Each individual state also has requirements from its cosmetology board and/or state health department. However, nail salons can easily ignore or get around these requirements.
Some of the recommendations from the EPA include the use of masks, gloves, and eye protection by manicurists. It's easy to understand why salon owners would not want their manicurists to don these protective items when taking care of clients! Yet these recommendations also are fair warning that clients who frequent these establishments are placing themselves in danger as well, although to a lesser extent.
One solution (which I do on a weekly basis) is to bring all of your own nontoxic nail care products to the salon. Simply explain to the manicurist and salon owner that you prefer to be treated with your own products. I bring everything from nail polish remover, nail polish, top coat, base coat, and hand lotion. Sure, sometimes I meet some resistance, but it's a small price to pay to get the chemicals out. You can check out the Environmental Working Group's Skin Deep project and Campaign for Safe Cosmetics for some safe nail products.
Read more about why your nail polish isn't safe
Efforts to get nail salons to follow safer practices has not been very successful. In California, for example, an attempt to ban dibutyl phthalate from cosmetics sold or made in the state was eventually shot down because of lobbying by the cosmetics companies. A much-watered down bill passed that requires cosmetic manufacturers to reveal certain hazardous chemicals to the California Department of Public Health. But what is being done for the workers?
Soon after the release of the New York Times article about the serious health problems among manicurists, New York State Governor Andrew M. Cuomo ordered a new, multiagency task force to begin investigating salons in the state. New regulations are being put into place that will protect manicurists from the environmental toxins in their workplaces.
While Gov. Cuomo's efforts can be applauded, they also need to be duplicated by other states and then enforced. Changes also need to be made in the cosmetic industry to eliminate the use of health-damaging ingredients to help protect the health of consumers and especially the women who work in nail salons everywhere.
Image: Angie Chung