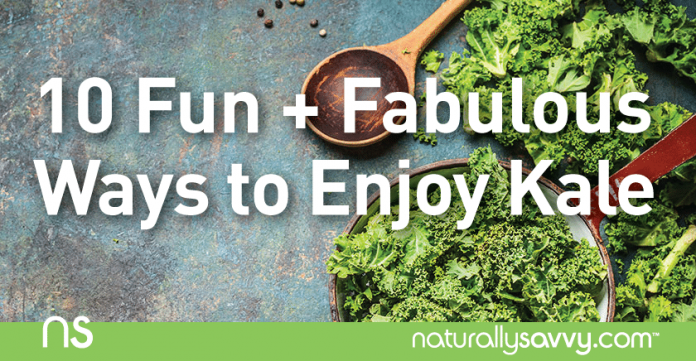 Depending on which polls and trend setters you choose to follow, kale was named "hot" or "hip" around 2012 to 2014, the latter of which supposedly was the year of kale. But just because it's not 2014 anymore doesn't mean kale has fallen out of favor or flavor. True, kale has thick, albeit leathery or rubbery leaves that have a bitter taste. But it can be enjoyed so many ways, and we definitely don't want to see it go away anytime soon.
So why is there so much hype about kale? It's because one mere cup of cooked kale provides the following:
Nearly 1,200% of the recommended Daily Value (DV) of vitamin K
Nearly 100 percent of the DV of vitamin A, 71% vitamin C, 27 % manganese, 22% copper, 11% vitamin B6, and 10% fiber
Just 36 calories!
In addition, kale has:
Glucosinolates, which are a potent antioxidant, anti-inflammatory, and anticancer nutrients
Cholesterol-lowering abilities
Isothiocyanates, which assist in regulating detox activities in your cells
Read More:  Nutritious and Delicious Kale
Here are 10 Fun and Fabulous Ways to Enjoy Kale:
1. Raw Kale Salad
Eating raw kale can give your jaws a good workout, but not if you massage the greens before you dress them. That's right: if you break raw kale into bite-size pieces or cut the leaves into thin strips and squeeze them with your hands, the veggie becomes softer and easier to chew and digest. Then add your favorite dressing (be sure to include an acidic ingredient, such as lemon, orange, lime, vinegar to help soften the leaves) and let it sit for about 20 to 30 minutes. Feel free to add other salad fixings as well like hemp seeds, chickpeas, avocado, olives, and/or croutons and you have a hearty, delicious and nutritious kale salad!
2. Kale Sorbet
Don't roll your eyes until you've tried this cool, nutritious treat. Combine 6 ounces of 100% organic frozen juice (apple or white grape), 1/2 frozen banana, 3 large handfuls of kale (finely chopped), 1 small peeled and cored apple cut into chunks, 3 cups of ice, and 1/2 peeled lime. Place all of the ingredients into a food processor and process at high speed until smooth.
3. Simple Kale Chips
Kale chips are the coolest alternative to high-fat, high-calorie potato chips. You don't even need to buy them-make this simple kale chips recipe at home in under 30 minutes.
4. Chocolate Kale Chips
Yes, you can combine delicious with nutritious all in one recipe! Make chocolate kale chips by first making a sauce by blending 1 cup of water, 1/2 cup raw cacao powder, 3/4 cup cashews, 1/4 cup hazelnuts or pumpkin seeds, 4 dates, 1 teaspoon of vanilla extract, 1/2 teaspoon himalayan salt, and a pinch of ground cinnamon. Once the sauce is made, simply mix it with one bunch of chopped and destemmed kale that has been washed and patted dry. Place fully coated kale chips on a lined cookie sheet and bake in the oven at 275 F for about 25 minutes, flip and continue to cook for another 15 minutes or until crisp but not burnt.
5. Cheesy Kale Chips
Here is a great way to enjoy kale chips with a dairy-free cheesy flavor that comes from nutritional yeast plus gain a sizeable boost to your B vitamin intake. Place all of the following ingredients into a blender or food processor: 1 cups cashews, 1/3 cup nutritional year, 4 tablespoons olive oil, 1 cup red bell pepper, 1 teaspoon lemon or lime juice, 2 cloves minced garlic, 1/4 cup water, and 2 teaspoons each salt and onion powder. Process until smooth and add a bit more water if necessary until you have the consistency of cheese sauce. Tear the leaves off the stems of about 1 pound fresh kale (no spines), wash, and dry well. Spread the kale leaves on a baking sheet, drizzle the cheesy sauce over the leaves, and bake for about 25 to 30 minutes at 275º F. Turn the kale after about 15 minutes.
Also Read:  7 New Ways to Eat Kale
6. Kale Soup
Using kale in soups is a super way to soften the leaves and enjoy the veggie. In addition to soups that call for the use of kale, you also can substitute it in recipes that use spinach. Here's a delicious kale chowder recipe to get you started.
7. Kale Pesto
Be bold and prepare your next pesto using kale. This simple kale pesto recipe takes just minutes to make and will wow your family and guests.
8. Kale Wraps
Although traditional curly kale leaves are a bit stiff, a variety of kale known as dinosaur kale or Lacinato kale is more tender. Use these leaves as a wrap instead of lettuce leaves or bread for a wide variety of grain, bean, and veggie mixtures.
9. Kale Burgers
There are two ways to look at kale burgers: kale added to traditional beef recipes, or a veggie burger that contains kale. We're going to go for the latter for the sake of nutrition, calories, and super taste! Gather together the following ingredients: 1 cup black or white beans, 1 bunch of kale (chopped fine, no stems), 1/4 cup rolled oats, 1 tablespoon extra virgin olive oil, 1 clove garlic (minced), and 1/4 teaspoon each sea salt and red pepper flakes. Preheat the oven to 350º F. In a small skillet, sauté the kale, red pepper flakes, and salt in the oil for about 5 minutes. In a large bowl, mash the beans until smooth and add in the sautéed kale and oats. Stir well until it holds together. Make four patties place on a greased baking sheet. Bake for 30 minutes, turning over after about 15 minutes. Enjoy immediately or freeze them for up to six months.
10. Kick-Ass Kale Smoothie
This is one of my favorite ways to eat (or should I say, drink, kale). Since kale is somewhat bitter, you want to cloak that taste with natural sweetness. Here's a recipe that accomplishes that well: Combine 2 cups chopped kale, 1/2 cup frozen strawberries or blueberries, 1/2 banana, 1/3 cup water, and 1 tablespoon lemon or orange juice in a blender and pulse until smooth. You can also try this favorite green smoothie recipe.
A word of caution: Before you begin enjoying all that wonderful kale, keep in mind that this veggie contains a high amount of vitamin K, which can be problematic for anyone who is taking blood thinners such as warfarin. If you have any concerns, talk to your doctor before adding kale to your diet.
For more delicious and healthy food ideas, subscribe to our newsletter.
Source