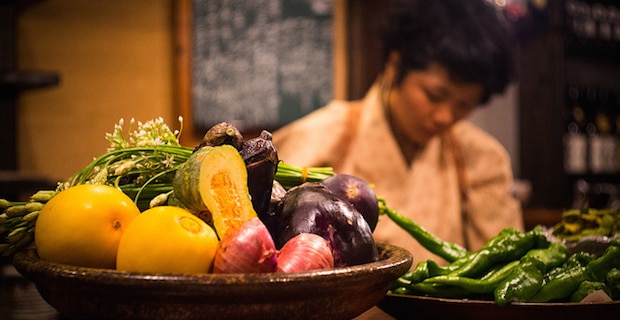 Eating well is one of the best things you can do to optimize your health. Add to this a reduction in your overall stress, sufficient sleep and adequate physical activity and you have a sensible combination for building and maintaining your health.
The question is, what exactly is "eating well?" There are so many conflicting messages about what constitutes the perfect diet and sometimes it seems impossible to decide what to eat. The truth is, different diets work for different people. Since we are all biochemically unique, how much food we need and what kind will vary from person to person. But the common thread between us is we all need a positive eating experience to help us optimize our nutrition. Even the healthiest diets will not be digested properly if we consume our food under stressful conditions or with negative thoughts.
Read more about thought patterns that keep you from happiness
In today's busy life, far too many meals are eaten at one's desk, on the run, or in front of a television. Eating in these conditions takes the focus away from tasting, chewing and appreciating our food. We are no longer experiencing the joy of nourishing our bodies, but are eating only for the sake of satisfying our hunger. This often leads to overeating since we are not mindful of the quantity we are consuming and, since our attention is elsewhere, we ignore our bodies' cues that we are satiated.
Overeating will often lead to indigestion, discomfort and, for some, feelings of guilt and shame. This creates a negative experience that will impede our body's ability to effectively digest, absorb and assimilate our nutrients. Our emotions influence our digestive process, just as they affect every part of our body. Eating out of loneliness, frustration or as a means to punish or reward ourselves will slow down the digestive process.
For optimal digestion and a positive eating experience, create a peaceful setting to receive food and take the time to enjoy it. Be aware of what you are eating and how much. Stop eating when you feel satisfied. Eat with loved ones often and engage in positive conversation. Every once in awhile, stop, look around you and smile at your loved ones. It's amazing how a smile can infuse positive energy to any situation.
Instead of feeling rushed to get meals on the table as quickly as possible, take a moment to enjoy the cooking process. As you slice, stir and sauté, revel in the knowledge you are about to nourish yourself and your loved ones. Have you ever wondered why food prepared by loving family members tastes so good? That's because they put their positive energy into everything they make. If love and a nurturing spirit go into food while it is being prepared, it is likely that the person eating the food will experience and exude those qualities as well. The next time you eat a meal prepared by a loved one, eat with the knowledge you are receiving love.
Each of us is ultimately responsible for our own health. Our desire to eat well and make positive food choices has to come from within. At best, we should eat moderately and eat a variety of whole foods. But eating well is more than just balancing our proteins, carbohydrates and fats, or reducing our intake of refined foods. It is breaking away from old habits such as eating in stressful conditions, overeating and emotional eating. Food can be a daily celebration of life and vitality if you let it – so why not let it?
Read more about emotional eating and how to stop it
The next time you eat, think optimistically, love your food and embrace positive eating habits and environments. You will reap the health benefits of not just eating properly, but eating well.
Image: Takuma Kimura