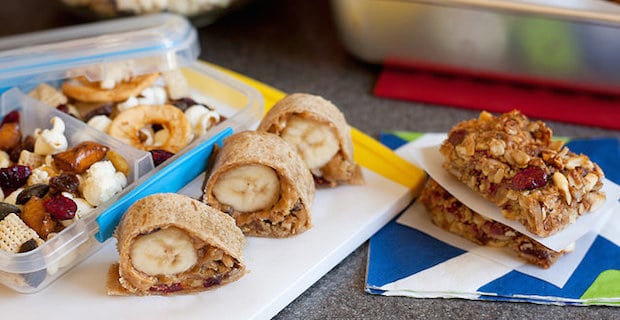 Snacks can be a healthy part of a child's life. Children have fast metabolisms and high energy needs, and snacks can effectively provide the extra nutrients kids require to play, learn and grow. Unfortunately, far too many children are choosing snacks that are laden with sugar, fat, additives and preservatives. In addition to increasing the risk of childhood obesity, snacks that aren't healthy can put kids at risk for poor dental health.
Deciding what types of snacks to serve your children is important when planning your child's overall diet. It's easy for children to fall prey to the appeal of brightly colored packaging and advertising claims of processed foods, but as parents we know better and we shouldn't allow these items to become regular staples in our children's diets. We have, in many ways, become a society of convenience-it is easier and quicker to give our children a packaged granola bar than it is to make it ourselves. Somewhere along the line we began to equate "snack" with "ready-made." But are packaged cookies, cakes and bars our only snack options? Have we forgotten how easy it is to reach for an apple, or how quick it is to chop up a few vegetables?
Read more about healthy eating tips for busy lifestyles
Healthy snacks can be quick and convenient-even if we have to make them ourselves. Try to prepare healthy snacks in advance whenever possible. If fresh fruit or vegetables are cleaned and cut, your children are more likely to choose them when hunger strikes. Or, keep individual snack size containers filled with dried fruit, whole grain crackers or unsweetened cereals in an easy to reach spot in the pantry.
The best way to promote healthy snacking is to involve your children in the process. Explain the effects of sugary or salty foods to your children in terms they will understand. Avoid labeling foods as "good" or "bad". Instead, explain how "junk" foods such as chocolate bars, chips or cakes should only be enjoyed occasionally as a special treat, and only when they are free of the Scary Seven. Develop a list of healthy snack choices and allow your children to select the snacks to be purchased. This way, children are more likely to enjoy their snacks and feel as if they have an active role in managing their own diets. Remember, kids are just like anyone else-no one likes to be told what to do, or what to eat all the time. Our goal is to give our children the tools and information they need to make their own healthy choices.
The key to long term healthy snacking is to provide a balance of food choices that your kids can enjoy. Kids will eventually get bored of eating only apples or oranges for snacks, making sugary treats even more appealing than they would be otherwise, so variety is important.
Here are some quick and easy snack ideas that are packed full of nutrients and will give your kids an energy boost to help them through the day.
Spread celery sticks with nut butter (almond, hazelnut, peanut butter) or organic goat cheese. Top with raisins or cranberries.
Sprinkle cinnamon on sliced apple wedges.
Spread nut butter (almond, hazelnut or peanut butter) on apple wedges.
Make snack kabobs. Slice a variety of bright fruit and thread on lollipop sticks. Or, slice cheese into cubes and alternate with pieces of grain-fed white chicken breasts.
Purée a variety of fruit (blueberries, peaches, bananas) with a few ice cubes in the food processor for a delicious instant "sorbet".
Top natural unsweetened plain organic yogurt with blueberries, unsweetened granola and a touch of maple syrup.
Make your own trail mix with nuts, seeds, unsweetened cereal and dried fruit.
Stuff whole grain mini pita pockets with tuna, chopped hardboiled eggs or veggies for a mini sandwich.
Smoothies make a great instant snack. Choose your favorite fruit and blend with organic plain yogurt and milk or milk alternative (soy, almond, rice). Sweeten with honey or pure maple syrup if desired.
Top unsweetened brown rice cakes with organic cream cheese or goat cheese and top with a sprinkle of cinnamon.
Lettuce wraps: spread romaine lettuce with a spoonful of guacamole and top with thinly sliced cucumber strips. Roll the lettuce up and enjoy.
Homemade applesauce.
Homemade tomato salsa (chopped tomatoes, celery, onions and peppers) with homemade whole wheat pita chips (slice pita into triangles and lightly brush with olive oil. Bake in 400 F oven until lightly browned).
Sliced avocado on sprouted bread or whole grain rice cake with a dollop of tomato salsa.
Hummus spread on whole grain crackers, brown rice cakes, sprouted bread or used as a dip for cut-up vegetables.
Sweet potato chips. Make your own healthy chips by thinly slicing sweet potatoes into rounds, seasoning them with olive oil and sea salt, then baking in a 400 F oven until crisp.
Popsicles made with fresh, unsweetened fruit juice.
"Truffles": Pulse dates, ground almonds or walnuts, cocoa powder and a touch of honey in a food processor until a paste forms. Form into 1 inch balls and roll in cinnamon, cocoa powder or unsweetened coconut (if desired). Refrigerate and store in an airtight container for an instant sweet treat.
Homemade nut and seed energy bars. Combine oats, dried fruit (cut up into pieces), sesame seeds, pure maple syrup and almond butter. Press into a parchment-lined baking pan and bake at 350 F until just golden around edges. Cool completely then cut into bars.
Read more about tips for raising sugar-free kids
Image: Personal Creations