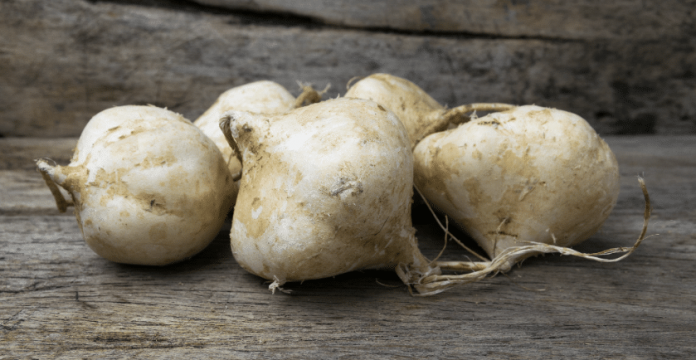 Mention the word jicama, and many people have no idea what it is. Also known as the Mexican yam bean, this unpretentious vegetable is a common food in the southwest, where you often will see jicama fries on a menu next to the French variety. This roundish root vegetable is a native of the Mexican peninsula and a member of the legume family.
However, jicama (pronounced hee-ca-ma), unlike beans, has the texture of turnips and the crispness and taste of apples. It can be eaten raw or cooked, is a great snack food, and a welcome surprise and addition to any vegetable tray. Jicama is highly revered in Central America, the Caribbean, and the Andes Mountains not only for its ready availability but its versatility and hardiness as well.
Special nutrition
Jicama has a special type of fiber that is rich in oligofructose inulin, a fructan that boosts the absorption of calcium from food, which makes it an excellent choice for protecting bone health. Inulin also acts as a prebiotic by promoting beneficial bacteria growth in the intestinal tract and supporting immune function.
The nutritional benefits don't stop there. Jicama is low in calories (46 per cup, sliced), provides 24 percent of your daily fiber needs, and registers as a low 2 on glycemic load. One cup also gives you 44 percent of your vitamin C daily value and is also a source of potassium, manganese, iron, folate, and magnesium.
Buying and storing jicama
Look for jicama that are firm and of a size you plan to use all at once or within several days of cutting. These tubers typically range in weight from 3 to 5 pounds, but can be as heavy as 50 pounds! Store jicama in a dark, cool place for up to a month, but once you cut one, the starch will begin to convert to sugar. Cut jicama should be stored in the refrigerator.
Before use, scrub the jicama as you would a potato. Cut off the bottom and top and then remove the peel with a paring knife. This tough outer skin must be removed as it contains an organic toxin called rotenone.
Enjoying jicama
Jicama's mild taste and crunchy texture makes it a super addition to salads, salsas, stir fries, slaws, and any dish that involves other vegetables or fruits. Serve up jicama sticks (a great alternative to carrots) and use them to dip in guacamole and other dips. A simple way to prepare jicama is to cut into sticks or slices, sprinkle with lime juice, chili powder, and salt, and enjoy!
Read about a great root vegetable salad
Jicama Chips
Forget potato chips; jicama chips are an awesome nutritional and delicious alternative. All you need are 2 to 3 jicamas and your choice of chili powder, garlic powder, salt, and onion powder. Use one or more flavorings or feel free to add your own.
Here are two ways to make jicama chips. The difference between them are the oven temperature and baking time.
#1: Preheat oven to 400° F. Peel and slice jicama into thin (about 1/8 inch) slices. It can be helpful to use a mandoline. Place parchment paper on a flat baking sheet and spread the slices in a single layer. Season to taste. Spraying with cooking spray is optional. Bake for about 18 to 20 minutes or until the chips are crispy. Be sure to check the chips after about 15 minutes.
#2: The baking alternative is to heat the oven to 200° F and bake for about 90 minutes, turning the chips every 20 minutes. You are more likely to end up with crisper chips using the second method, but it also requires more time and energy.
Jicama Fries
This recipe is similar to the ones for chips, except it involves some boiling.
1 medium jicama
¼ tsp each garlic powder, sea salt, paprika, granulated onion
1 Tbs olive oil
Preheat oven to 400° F. Peel jicama and cut into fries. Place the fries into a pot of boiling water and cook for 7 to 8 minutes. Drain the fries in a colander, place them in a bowl, and add all of the ingredients. Mix well. Place the fries on a baking sheet, in a single layer and bake for 25 to 30 minutes. Turn the fries after 15 minutes.
Don't stop there! Here are more ways to enjoy jicama!
Sources
Mercola. Food facts: What is jicama (yambean) good for?
SelfNutritionData. Jicama