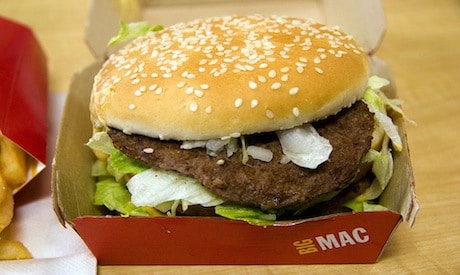 McDonald's must realize the food offered in its restaurants is really unhealthy. The company's internal McResource Line website reportedly contained a photo of an unhealthy meal that looked similar to what one would eat at a McDonald's restaurant next to a photo of a healthier meal of a salad, water and a sandwich. The site, according to Grist, contained the following advice for McDonald's employees: "While convenience and inexpensive for a busy lifestyle, fast foods are typically high in calories, fat saturated fat, sugar, and salt…Avoiding items that are deep fried are your best bet."
Soon after the media began reporting about the photos, the company took down the website. The company posted the following statement on its corporate website about its reasons for getting rid of the website:
"We have offered the McResource program to help our valued McDonald's employees with work and life guidance created by independent third party experts. A combination of factors has led us to re-evaluate, and we've directed the vendor to take down the website. Between links to irrelevant or outdated information, along with outside groups taking elements out of context, this created unwarranted scrutiny and inappropriate commentary. None of this helps our McDonald's team members. We'll continue to provide service to our folks through an internal telephone help line, which is how the majority of employees access the McResource services."
Studies have linked fast food to all sorts of health problems, including obesity. A study released last fall linked obesity in youth to television fast food advertising. Over 2,000 people aged 15 to 23 participated in the study and viewed 20 advertisements from national television fast food advertisements and then were asked questions about the advertisements. A television fast food advertising receptivity score was assigned. Youth with higher scores were more likely to be obese than those with lower scores. The study concluded, "Using a cued-recall assessment, TV fast-food advertising receptivity was found to be associated with youth obesity."
A recently released study found that regularly eating the type of fare offered at fast food restaurants increased obesity risks in African American women. Boston University researchers used study data from the Black Women's Health Study, which began looking at the health of 59,000 African American women ages 21 to 39 from 1995 to 2011. When the study began, the women were not obese. Researchers found that women who ate burgers from restaurants at least twice a week were 26 percent more likely to become obese by the end of the study than those who rarely ate burgers. They also found that women who drank at least two sugar-sweetened soft drinks a day were 10 percent more likely to become obese.
Eating fast food is also linked to heart disease and type 2 diabetes. A 2012 study by University of Minnesota School of Public Health researchers looked at eating habits of Singapore residents and found evidence that a diet with loads of fast food increases the risk of developing Type 2 diabetes by 27 and coronary heart disease by 20 percent. People eating fast food two to three times each week increase the risk by 50 percent, and for people who eat fast food four or more times a week the risk increases to almost 80 percent.
Read more about health problems associated with fast food
Image: pointnshoot