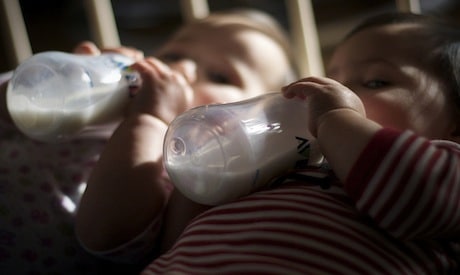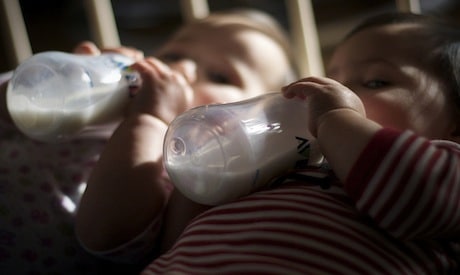 Omega-3 fatty acids
seem to be popular these days, and there is a very good reason why:
they provide many benefits. Those benefits extend to babies, as a recent
study shows that infants given long-chain polyunsaturated fatty acid
(LCPUFA) supplements perform better on standardized tests when they are
older. The study looked at the effects of LCPUFA consumption on
cognitive development. The researcher's objective was to evaluate
cognitive abilities of children from 18 months to six years old who were
given docosahexaenoic acid (DHA) and arachidonic acid (ARA) as infants,
compared with children not given LCPUFA as infants.
A total of
81 children participated in a double-blind, randomized trial of LCPUFA
supplementation. What the researchers found is that although there were
no significant differences observed at 18 months, from three to five
years there were "significant positive results" observed on
rule-learning and inhibition tasks. "The data from this relatively small
trial suggest that, although the effects of LCPUFAs may not always be
evident on standardized developmental tasks at 18 mo, significant
effects may emerge later on more specific or fine-grained tasks," the
researchers concluded.
Read more about omega-3s
Other research shows there are benefits to LCPUFA supplemented formula. A 2007 study
reviewed trials on LCPUFA supplemented formula in infants and found
that it has a beneficial effect on the neurodevelopment of infants until
four months old. However, the researchers concluded that "the studies
could not demonstrate a consistent positive effect beyond that age."
Fast forward four years to a 2011 study
on the effects of LCPUFA supplementation on infants. Researchers
analyzed the effects of LCPUFA supplemented formula on infants born
prematurely who were given the formula from birth to nine months old.
The researchers followed the children for nine years, and found that the
girls showed "beneficial effects of LCPUFAs on literacy." They also
found increases in verbal IQ, full-scale IQ, and memory scores for both
genders given the supplemented formula.
A year later, researchers published a study
that analyzed 19 studies involving 1,949 infants. What they found it
that LCPUFA supplementation had a "significant benefit…on infants
visual acuity." They concluded that "current evidence suggests that
LCPUFA supplementation of infant formulas improves infants' visual
acuity up to 12 months of age."
Read more about children's health
Photo Credit: nettsu