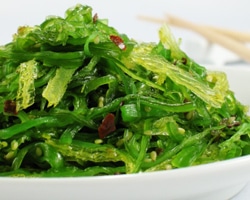 Sea vegetables (or "seaweed") are a gift from the sea. Rich in over sixty minerals, seaweeds such as nori, dulse, wakame, agar agar, arame and kelp are also excellent sources of vitamins and aid in the digestion of many foods.
Sea vegetables are an important source of the trace mineral iodine, which is needed by the thyroid gland. Since the thyroid controls metabolism, the normalizing effect accelerates calorie burning. For this reason, sea vegetables can safely be used for weight loss.
Natural seaweeds can be used by everyone, even during pregnancy. They can be eaten raw, and are often dried or ground into flakes or powder.
Their salty flavor makes them an ideal salt substitute. Sneak them into soups, salads and stews or toss some into the water when cooking pasta or rice. Sprinkle flakes or powder over rice or vegetables for extra flavor and nutrients.
Sea salt is excellent substitute for table salt. Because of its stronger flavor, much less is required to season your food. Sea salt provides twice the flavor, half of the sodium and plenty of other minerals that table salt does not have. Table salt is mined from the earth and does not contain any nutrients (except for added iodine). Sea salt is extracted from the ocean, is rich in trace minerals and has an alkalizing effect on blood.
It is important to note there are different qualities of sea salt. The best quality sea salt is moist to the touch (and it remains moist over time) and is light grey, pink or black in colour (not white).