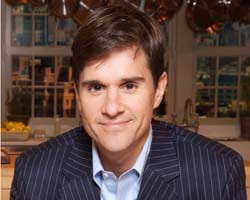 Dr. Brent Ridge is a medical doctor with a holistic approach. While practicing, he specialized in geriatrics where he promoted healthy aging. It was very refreshing to speak to Dr. Brent, as his patients called him, because he's an inspiring individual who left his daytime job to pursue his passion – running an organic goat farm.
Naturally Savvy Guide, Andrea Donsky: Brent, can you tell me how the Martha Stewart Center for Living at Mount Sinai Medical Center in NYC came to fruition?
Dr. Brent Ridge: My background is Geriatric Medicine. I am on the faculty of Mount Sinai (where the word "geriatrics" was first coined) and decided to go back to business school at NYU. I've always believed that just because you're getting older, doesn't mean you aren't productive. So, while in business school, I came up with the idea to create a medical center where we could study the process of aging more in depth. The idea of creating such a Center at Mount Sinai had been in discussion for several years but had languished. I began working on the medical center project about 5 years ago and about 4 years ago I sought to find a donor. My number one choice was Martha Stewart. No one could ever argue that Martha is not vital and productive!
And so the Martha Stewart Center for Living at Mount Sinai was born. The mission of the center is to create new clinical, business and educational models which can be applied anywhere. The center strives to provide the best clinical care possible for our aging population and patients from around the world visit the Center to see the doctors there. Ultimately, it's purpose is to promote and bring forth health care resources for older adults and to enhance the public perception of aging.
Andrea: Can you explain the connection between Geriatric Medicine and Complimentary Medicine?
Dr. Brent Ridge: Geriatric Medicine is as holistic as you can get when it comes to allopathic medicine. The issues surrounding an older person are quite complex as you're dealing with several facets of their life including family and caregivers. As Geriatricians, one of our primary roles is serving as co-ordinators of care since many of our patients see 5 or 6 doctors at once, and geriatricians are trained to look at the whole patient and the patient within the context of their personal environment.
Andrea: What type of holistic approaches does the center incorporate?
Dr. Brent Ridge: The center incorporates several holistic practices including:
Tai Chi and yoga classes
Analyzing the patients' environment and all that goes into their health care
Nutritionists (on staff) who counsel the patients
Each patient is assigned a social worker
As you can see, Martha Stewart Center for Living's practices include everything from mind, to body, to spirit.
Andrea: Let's talk passion. You left your full time job as Vice President for Healthy Living for Martha Stewart Living Omnimmedia to follow your passion and start an organic goat farm in upstate NY in hopes of one day making it biodynamic. Can you tell me a little bit about what inspired you to do this?
Dr. Brent Ridge: We bought the farm about 2 years ago while I was still working for Martha. When we first bought the farm – named Beekman 1802 – our intention was to take advantage of it for own personal use and ultimately make it biodynamic – which we knew was a long term project. So in the interim we decided to focus on what we already had and were good at – raising our goats.
We were drinking the goat's milk ourselves and using it to make goat cheese and yogurt, but when we sought to look at what else we can do with the goat's milk we decided to make 100% chemical-free soap (Beekman 1802 Original Goat Milk Soap) We started by giving it out to our friends as gifts – which they loved. Then two Christmases ago I gave Martha some soap and shared it with her stylist. Shortly afterward, I got the call from her stylist saying it was the BEST soap she had ever used and asked me if she could sell some in her salon, the Eva Scrivo Salon in NYC.
The farm had been our source of escape and pleasure. We never thought of the farm as a business but that's what it has turned out to be!
Andrea: How does Beekman 1802 inspire others?
Dr. Brent Ridge: We saw firsthand how fascinated people were with our farm so we decided to create a community centered around what we can do on the farm. We're farmers and we learn from other farmers so we created a social network with four of our neighbors where each of us can share their gardening tips. We just started a contest on our website where anyone can participate. It's called "The Oldest, Largest Garden Party in America's History" where people can share their gardening tips and stories and the winner will receive a 37-piece Ultimate Yard & Garden Tool Set from Fiskars.
We also wanted to build a co-operative among the local artisans in our area. There are so many brilliant craftsmen and our goal is to create a vibrant economic structure for them. For example, in addition to our goat milk soaps we carry items such as hand woven linens and letterpress stationary featuring Beekman 1802's very own wildflowers.
We want to inspire other people to do small things. A little bit goes a long way. Whether you are planting an entire garden or growing an herb plant in your apartment, every little bit counts.
Andrea: How do you maintain balance in your life?
Dr. Brent Ridge: We're launching a new business, so technically I'm still working so it can be hard to find that balance. However, as passionate as I was working with Martha – I'm even more passionate about working for myself. I believe if you follow your passion – you're going to be successful. Plus, once you're truly following your passion – it's really no longer "work".
Andrea: How natural and/or environmentally-friendly is Beekman 1802?
Dr. Brent Ridge: When we bought the farm it hadn't been farmed for years so we decided to maintain its organic nature. We try to keep things as self-contained as possible and try to be as self-sufficient as possible by growing and raising our own food. We recently had some friends over for dinner at our city apartment and as we were about to eat, we realized everything on our plate was something we planted at the farm and grew in our very own garden.
We spend most of our time at the farm in the summer and in the winter we stay in Manhattan because it would be environmentally incorrect to keep the main house of the farm open. We shut down the house from January to March because the heating bill would be cost prohibitive and wasteful. However our goal is to someday hopefully change that by putting solar panels on the roof and geothermal flooring in the farmhouse.
Andrea: Thanks Brent.
To learn more about Brent and Beekman 1802, visit www.Beekman1802.com. Brent's goat milk soaps are available online and in Anthropologie stores nationwide this summer.