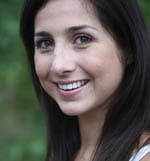 Katrina Bertol is Naturally Savvy's Whole Health Expert.
Katrina Bertol is a Registered Holistic Nutritionist, Registered Nutritional Consultant Practitioner, Certified Personal Trainer, Pilates Instructor and Reiki Practitioner. Katrina has an undergraduate degree in fitness and nutritional sciences and an advanced diploma in Holistic Nutrition.
Inspired by her father, who died at an early age from ALS (Lou Gehrig's disease), Katrina decided to turn her passion for health into a commitment to helping others balance their lives and find whole health through a combination of nutrition, fitness, meditation and reiki. She has combined her love for travel and her interests in alternative health therapies and has done courses in Yoga, Reiki, Ayurvedic Medicine and Cooking throughout India, South-East Asia and Europe.
Katrina has worked in corporate wellness, rehabilitation, pre and post-natal fitness, as the nutrition expert for the Canadian Society of Crohn's and Colitis, in home and studio group and individual training, and currently operates her Nutrition and Reiki practice. She offers Nutritional Consultations, Holistic Food Preparation Classes and Personal Training Packages.
As a practitioner, Katrina looks at her client's whole health and individual genetic profile. She believes that no two clients are ever the same. By careful analysis of structural, organ and system function, lifestyle assessment, nutritional profile and dietary habits, Katrina's goal is to help her clients achieve whole health with real life strategies. Katrina specializes in Weight Loss, Allergies, Detoxification, Pediatric Nutrition, Sports Nutrition, Fertility Health, Irritable Bowel Disease, Urinary Tract Infections and Whole Foods Cooking Preparation.
To reach Katrina, email her at Katrina(at)NaturallySavvy.com.