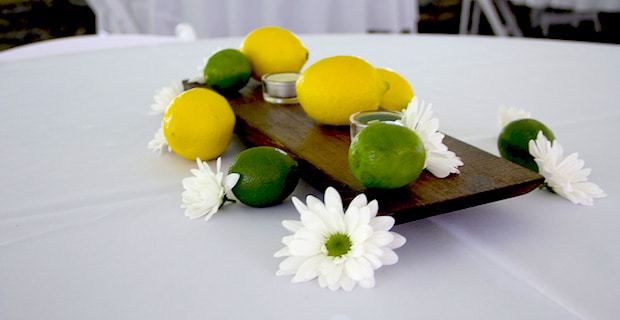 Not only can weddings be very expensive, but they can also wreak havoc on the environment. The average wedding in the United States produces 62 tons of carbon dioxide and 400 to 600 pounds of garbage according to the Green Bride Guide. One of the main sources for environmental damage is the wedding flowers. While every bride deserves to have the wedding she dreams of, that often means flying flowers in from across the world or using flowers that have been sprayed with harmful chemicals.
However, there are many options for eco-friendly and DIY wedding centerpieces that provide the beautiful look and feel you desire for your wedding, but don't have the negative impact on the environment that you're trying to avoid.
1. Native Flowers
If you really have your heart set on fresh cut flowers, use flowers that are in season in your area at the time of your wedding. Check with local farm stands to see if they offer floral services or confirm with your florist that they use native plants. Organic flowers are preferable, but local is key. This drastically reduces the distance the flowers travel and will also provide a significant cost savings.
2. Potted Plants
Not all potted plants are fabulous centerpieces, but there are many that work well. Topiaries and herbs are great examples, and a collection of potted plants of various sizes can be truly stunning. If they don't come in nice terracotta pots or you want to add more texture, wrap the pots in a natural fabric such as burlap. Potted plants won't land in the garbage after the wedding and can be taken home by guests to be enjoyed as house plants or added to their garden.
3. Local Fruits and Vegetables
A lovely way to add some local flavor to your big day is to use fresh fruits and vegetables from area farms. A basket full of strawberries, a bowl full of lemons or limes, or a tower of apples or peaches add bright color and can be composted after the event (if nobody gobbles them up at the end of the night).
Read more about grow-your-own foods guaranteed to impress your friends
4. Branches
Turn your backyard pruning into your free eco-friendly and DIY wedding centerpiece. Large branches with interesting shapes will create a striking tall centerpiece when placed in a vase and can be made even more interesting by adding battery powered twinkle lights or mini tissue paper flowers that can be recycled after your celebration.
5. Photos
Guests always love to see photos of the happy couple so why not make them the centerpieces? Chances are you already have them printed out, and if not, you'll certainly appreciate having them all to put into an album of your life together. You can even include photos from the weddings of other family members. Stick each photo into a mason jar to protect it from getting wet or damaged. You can either print one large photo or do a series of them in various size jars.
6. Vintage Bottles
Bottles of varying shapes, sizes, and colors make a great visual. Scour your local thrift stores and tag sales to collect a wide array of vintage glass bottles, and then create different groupings of them for each table. Try to stick to a color scheme to create a common thread throughout your reception.
7. Beeswax Candles
Using one large pillar candle or grouping a series of candles of varying heights is a popular centerpiece choice for many brides, and it can be for the eco-friendly bride too. Just choose all natural beeswax candles, which don't contain petroleum, and are available in many colors. And because beeswax candles are slow burning, you can be sure that your centerpieces will stay lit throughout your entire reception.
Image: Katherine McAdoo