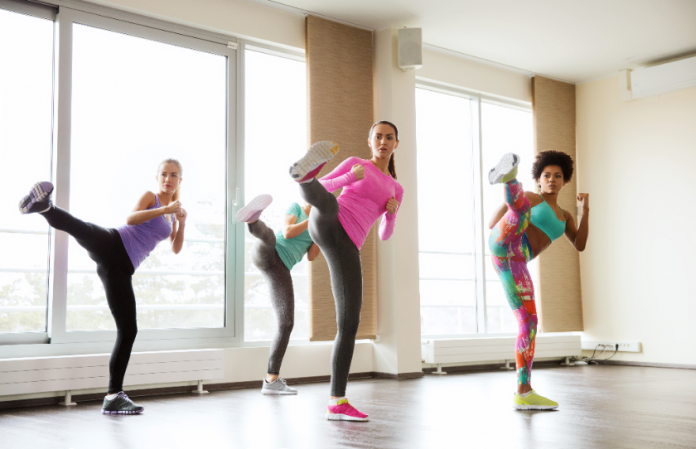 Every New Year, many of us vow to make exercise and fitness a priority in our lives. "This is the year!" we say to ourselves, and then after an enthusiastic start, interest wanes. Perhaps we just need to discover the right one or two-or more-activities that not only excite us, but that fit well into our lives. The year 2018 could be that time, once you get a gander at the top exercise and fitness trends.
HIIT (high intensity interval training). According to a recent worldwide survey by the American College of Sports Medicine of fitness trends for 2018, HIIT tops the list-again-after a four-year hiatus. Perhaps the fact that it has returned, so to speak, means there's really something to check out if you haven't already. HIIT is popular for several reasons, one being that you entirely maximize your time and efforts: you can finish your workout in about 20 minutes or less.
Focus on fun. This seems like a no-brainer, yet sometimes we need to be reminded. According to Jenny Eden Berk, a certified eating psychology coach, we need to stop being quite so hard on ourselves and return to playful exercise. "There is a growing movement of… classes that focus on games that get people moving [while] totally having fun," she says. In addition to classes, your idea of fitness fun could be joining local fitness groups that get together for hiking, climbing, tennis, walking, volleyball, or other activities. My fun workout is kickboxing. It took me a while to find an exercise routine I enjoyed, and now I look forward to going at least 3-4 times a week (more on boxing below).
Read about dancing keeps your brain and body young
Live-streaming fitness. Although live-streaming exercise and fitness classes are not new, they have not caught on with full vigor…until 2018, according to Dr. Carrie Burrows, a certified personal trainer and kinesiologist. You get the advantages of joining in with real-life people working out in another location without having to leave your home or office. You can don your most comfy workout clothes, participate live or access the archives, and the cost is typically much less than joining a gym.
Exercise with your pet. This trend makes sense for a number of reasons, not least of which it can be fun! In addition to walking and jogging with your dog, there are a growing number of establishments where your canine (and sometimes feline) friends can join you in yoga or Pilates sessions. Other activities in which you can include your dog (depending on temperament) are stand-up paddleboarding, kayaking, cross country skiing, and doggie boot camp, among others.
Boxing. At least one fitness trainer believes boxing will be big among women in 2018. That's not to say that interest in boxing among women has not been growing for several years; it has. Yet Katie Dunlop of Love Sweat Fitness say "there will be a huge trend toward boxing in 2018," and it won't be in big gyms. Rather, women will be turning to group fitness classes, private gyms or even home workouts when hitting the bag.
Read about 5 fitness hacks that will help you change your lifestyle
Family fitness. Anyone who has children, especially younger ones, knows that squeezing exercise into your daily routine can be a huge challenge. What if you focus on family fitness? Depending on the ages and abilities of your children, family fitness programs can be the answer, and they are a growing trend. Fitness centers, community centers, gyms, and sports facilities are increasingly focusing on family-centered physical activities ranging from swimming and cardio to kickboxing, yoga, indoor cycling, Zumba, and track and field. No babysitters needed!
DNA testing for performance. What does DNA testing have to do with exercise? Plenty, because information about your genetic background can help you better plan your fitness and wellness programs. DNA testing has taken off as people want to learn more about their heritage, but more and more individuals are learning they can customize their workouts better if they know their biology.
Fitness for boomers. Among the entries in the American College of Sports Medicine survey results for 2018 was baby boomer exercise
opportunities. More and more fitness centers, retirement
establishments, community programs, and personal trainers are
incorporating exercise and fitness programs for this population. If this
is you, or you know someone who fits into this category, take advantage
of these exercise happenings.
Pilates for men. Pilates has often been viewed as a fitness routine for women, but fitness trainer Erik Marthaler believes more men are turning to Pilates as they realize how incredible it is for working the core and the entire body, as well as improving posture. After all, many NFL players are fans, so there must be something to this fitness trend.
Which exercise plan will you try this year?
Sources Macey A. 9 health experts predict the hottest fitness trends of 2018. Brit + Co 2017 Nov 6
Thompson WR. Worldwide survey of trends for 2018. ACSM's Health & Fitness Journal 2017 Nov-Dec; 21(6): 10-19
Tigar L. Fitness trends 2018. AskMen