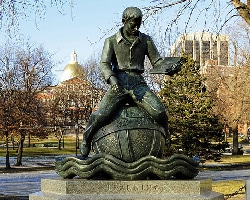 Boston is one of my favorite cities. I love the history, the museums, the colleges, and the little unique neighborhoods that make up the large city. But I also love Boston because it's deep, dark green.
From the way Bostonians get around, to where they shop, to how they build, this is one city that is striving to be greener than the rest. Even the roads, composed of non-toxic asphalt, are green. So next time you're headed to Boston, be sure to make the most of their eco-friendly offerings.
A Green Place to Rest
If you're visiting Boston, be sure to look for an eco-friendly hotel-which won't be hard to find. The Boston area is home to 26 Energy Star hotels, and 34 more hotels that are taking steps to earn certification.
The Hyatt Harborside Hotel, Irving House at Harvard in Cambridge, and the Marriott Peabody are Energy Star certified hotels, while Element in Lexington is LEED certified, and Onyx Hotel has earned the National Good Earth Keeping Award.
For a complete listing of certified green hotels in the Boston area, head to BostonGreenTourism.org, a website dedicated to promoting Boston as an environmentally conscious tourist destination.
Getting Around Beantown
Public transit options in Boston are fantastic. The T, as Bostonians call the transit system, offers excellent access across the city, and visitors will find the system easy to navigate.
For locals and visitors who like to go places under their own power, the city's pay-as-you-go Bixi bicycle system is an easy and budget-friendly way to get around. With 2,500 bikes (which could soon double), 290 stations, and 3,750 docking points, you'll be sure to find a Bixi bike nearby.
If you need to go further afoot (or if the rain is pouring down), Boston's taxis are also going greener, with all cabs in the city being replaced with hybrids by 2015.
Even Boston's Logan Airport is eco-friendly. The building has achieved LEED certification, making it one of the greenest airports in the United States.
Green Eats
If you're looking for a restaurant that is committed to sustainability, there are several options that have been certified by the Green Restaurant Association.
Some of the GRA's standards include serving sustainable foods, water conservation, energy efficiency, green energy, chlorine-free paper products, and use of non-toxic cleaning products.
Boston's certified green restaurants include Flour Bakery & Café, Giddy-Up Grill, Tantra, the eatery at the New England Aquarium, and Boloco (which has 13 locations spread across Boston, Cambridge, Metfrd and Natick).
A little further a field, Grendels' Den and Upstairs On the Square are Cambridge's sustainable food options, while Lumiere in West Newton and The Fireplace in Brookline round out the options.
Eco-Friendly Things To Do
If you're headed to the historic city with the family, don't miss the Boston Children's Museum. Founded in 1913 by a group of teachers, the museum has overhauled their space to earn LEED Gold certification. As your kids fall in love with the hands-on learning, you can point out the building's great green features-like the green roofs, recycled materials, and water reclamation system.
Down:2:earth is Boston's annual sustainable living expo. This is the place to find anything and everything eco-friendly, from energy to fashion. The expo offers a great mix of vendors, with big name corporations like Home Depot show off their sustainable product lines alongside independent eco-friendly designers and artisans.
If you're taking a last-minute trip and want to find out if there are any green events that coincide with your jaunt, check out the events listings at Boston Green Scene.
Boston's Green Spaces
Boston Common is the city's most famous outdoor green space, and it's the country's oldest park, too. Nearly 50 acres, the Common is called the "anchor" of Boston's system of parks, which connect the city's neighborhoods. In the autumn, these green spaces turn into a kaleidoscope of gold, orange and scarlet.
Across the street from the Common, the Public Garden-the first public botanical garden in the U.S.-is a lovely place to wile away an afternoon. Meander through the Victorian-style garden, and head to the Lagoon to take a ride on one of the pedal-powered Swan Boats. Run by the same family that founded the company more than 100 years ago, it's a charmingly historical way to cap off a lazy afternoon.
The Boston area is also charging forward with Grow Boston Greener, an ambitious plan to plant 100,000 trees by 2020. The effort is expected to increase the city's canopy by 29 percent, and the added trees will help improve air quality, improve storm water management, and it is expected to help reduce energy consumption in the city by keeping it cooler in the heat of summer.
With so many eco-friendly options in Boston, the only problem you might encounter is figuring out how to fit it all in.