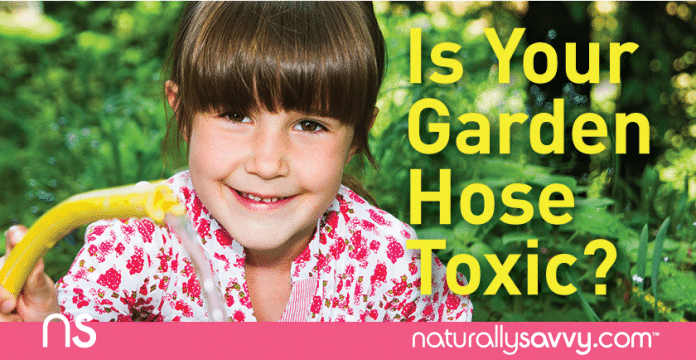 I never really thought much about my garden hose until I saw the results of two studies published by the Ecology Center. When I learned about the health hazards lurking in the plastic coiled "snake" in my yard and found a non-toxic alternative, I decided to ditch the one I had.
Researchers evaluated a total of 111 garden hoses and found they contained high levels of toxic chemicals, including those that have been banned in children's products. For example, if you hook up your new garden hose and let it sit in the sun, within a few days you will likely find BPA (bisphenol A) and phthalates in the water. These toxins can have an impact on brain function, and development in children and have been associated with obesity in teens. Hot plastic or vinyl water hoses are also a great breeding ground for algae and bacteria.
Fortunately I discovered a number of safe, non-toxic alternatives. But before I even talk about my finds, I want to tell you more about what the experts discovered, and why you may want to ditch your garden hose as well.
The first study was done by the Ecology Center in 2012 and evaluated 90 common garden water hoses purchased at Lowes, Home Depot, Walmart, Kmart, and Target. In that study:
17% of plastic hose material contained more than 100 parts per million (ppm) of lead.
One-third of the hoses had levels of lead higher than acceptable by the federal Safe Drinking Water Standard.
18% contained antimony, which is considered a possible human carcinogen by the European Union and the International Agency for Research on Cancer.
3% of the hoses contained high levels of cadmium.
56% of the hoses were made from polyvinyl chloride (PVC), a plastic that often contains phthalates. Phthalates have been associated with birth defects, symptoms of ADHD, behavior problems, and hormone disruption.
Water samples evaluated from one of the hoses contained bisphenol A (BPA), lead, and phthalates. The BPA levels were 20 times, the lead levels 18 times, and the phthalate levels four times higher than the federal drinking water standards.
Read More:  Heavy Metals and Kids' Health
Study number two was a follow-up of the original one and involved 21 top-selling brands of garden water hoses, which were tested for levels of BPA, bromine (associated with brominated flame retardants), cadmium, chlorine (which indicates the presence of polyvinyl chloride), lead, and phthalates
Here's what the researchers discovered in these 21 hoses:
One-third (8 of 21) contained high levels of at least one of the tested-for substances
Polyvinyl chloride was found in 67% (14 of 21)
Brominated flame retardants were found in 4.5%
Of the PVC hoses tested for phthalates, all of them had one or more phthalates that have been banned by the Consumer Product Safety in children's products.
Hazardous metals also were found in some of the hoses; namely, organic tin stabilizers in 29% and antimony in 52%.
The "good" news was that the overall level of lead had declined between 2012 and 2013. While half of the garden hoses had more than 100 ppm (parts per million) lead in 2012, only 14% had that level in 2013
The bottom line is that common PVC and vinyl water hoses are havens for hazardous substances (e.g., BPA, phthalates, lead) that can leach into the water and pose health challenges for you, your children, and your pets. You also don't want to water your vegetable garden and other plants with this contaminated water.
Read More: BPA-free Plastic is Not Safe Either
Safe Garden Water Hose Alternatives
When shopping for a toxic-free garden hose, look for those made of FDA and NSF (National Sanitation Foundation) approved food-safe polyurethane. The best fittings are made of nylon, which are not as affected by the cold as brass fittings. Nylon fittings are also lead-free, which means they are drinking water safe. One FDA and NSF approved food-safe polyurethane garden hose is Water Right Inc., a family-owned business in Oregon. Here are three other safe options:
If you use your garden hose primarily to water your plants, you may want to consider another environmentally friendly option: rain barrels. Given the present and future drought situation, now is a great time to adopt conservation habits. Strategically place one or more large containers to collect runoff from your roof, and you could harvest all or nearly all the water you need for your plants. According to the Conservation Foundation, you can collect about 200 gallons of water for each quarter-inch of rain that falls on the average home.
Naturally, if you don't want to haul water from the barrel to your garden, you will need a hose, which can be hooked up to a spigot on the front of the barrel. You can attach your new non-toxic hose to your rain barrel and also use it with your regular spigot on the house when needed. Rain barrels can help to save you money on your water bill.
Bottom Line
Exposure to toxins can happen in the least likely places like your garden hose. Use this guide to choose your new garden hose.
Sign up for our newsletter:
DISCLAIMER: This article contains affiliate links, which means that if you click on one of the product links, Naturally Savvy will receive a small commission so we can keep pumping out amazing articles like this one. Thank you so much for your support!