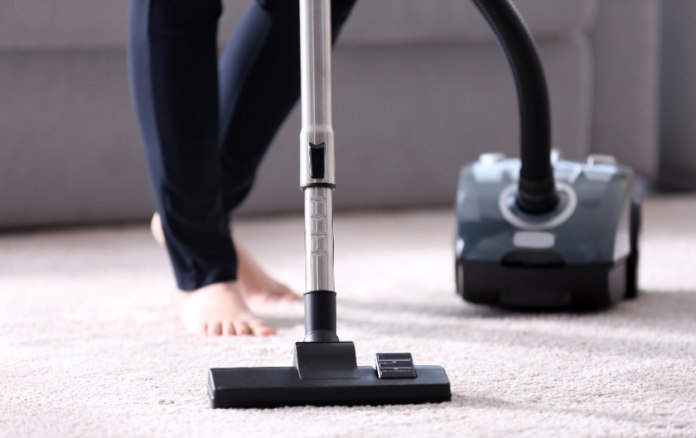 Most appliances in the home were designed with a single purpose in mind: washing machines clean your clothes, dishwashers clean your dishes, refrigerators keep your food cold and so on. But there is one household appliance that is more versatile than you might think-your vacuum cleaner. Yes, it will clean your floors, but it can do so much more!
Learn more about the non-toxic way to clean your oven
The humble vacuum cleaner can do everything from find your missing pearl earring to inflating an air mattress if you know how to use it properly. Dig out those hose attachments from the bottom of the broom cupboard, and put your vacuum cleaner to some of these surprising uses.
1. Find a tiny lost item.
Pop a stocking over the end of your vacuum cleaner, secure it with an elastic band and then run it around behind couches, under cushions and around heavy pieces of furniture to find tiny lost items, such as earrings and board game pieces.
2. Dust children's toys or ceiling fans.
That little brush-like attachment is the perfect dusting tool. Run it over children's toys, books on shelves, blinds, lampshades, picture frames to loosen the dust, then the vacuum will suck it all away. Don't forget about ceiling fans. With an extender and a step stool, you can reach up there and whisk away all that grim in seconds without making a giant mess on the floor.
3. Groom your pet.
Keep that dusting tool on and give Fido or Kitty a gentle rub with the vacuum on its lowest setting. They'll probably enjoy the massage, and you can suck up all that extra fur without getting it all over the floor or furniture.
4. Fix carpet dents.
If you've rearranged the furniture recently, you're likely stuck with some deep carpet dents from whatever was there before. Place ice cubes on the dents, let them melt, and then vacuum the wet area. This will encourage the carpet to snap back into shape.
5. Inflate an air mattress.
Friends coming to stay and you need to inflate that mattress, but can't find the little pump thingy? Your vacuum cleaner can help. Just remove the bag, connect a long cleaning nozzle where the bag was attached, and stick the nozzle into the mattress hole. Air will blow out of this and inflate the mattress.
6. Soothe a crying baby.
This is a trick that needs to be initiated soon after baby is born to get them used to it, but is an excellent 3-in-1 activity. You get to clean, do a bit of exercise and put baby to sleep all in one go! Just pop baby in a strap-on carrier, get the vacuum out and bop gently around the house while you clean. The white noise the vacuum produces should soothe your baby and, if it works, is an excellent trick for soothing a fussy child for months and years to come.
7. Deodorize your home.
If your vacuum has a bag, soak some cotton wool with sweet-smelling essential oils and drop it in the bag. The smell will be released when you vacuum. You can also pair this with sprinkling some baking soda on any particularly smelly areas of your home-especially cushions and mattresses that you can't easily put in the washing machine. Let the baking soda sit for a few minutes, then vacuum up.
Read more about the dangers of air fresheners
8. Clean your dryer vent.
Use the brush attachment to give the filter of your tumble dryer a good cleaning once a month. Then, attach the crevice tool to get down deep into the machine's filter compartment and get any stray bits out.
9. Get your children cleaning.
Vacuuming is a great first chore for children. It's an easy take, and they get to use a big, cool gadget. Once they've done the inside of the house, have them go outside and vacuum your car too-after all, they're the ones that make most of the mess!
As a green mom, Jennifer Tuohy writes for The Home Depot about sustainable DIY projects and new, innovative products or technologies that help improve the environment you live in. Visit The Home Depot website to see a wide variety of vacuum and accessory options that Jennifer talks about in this article.