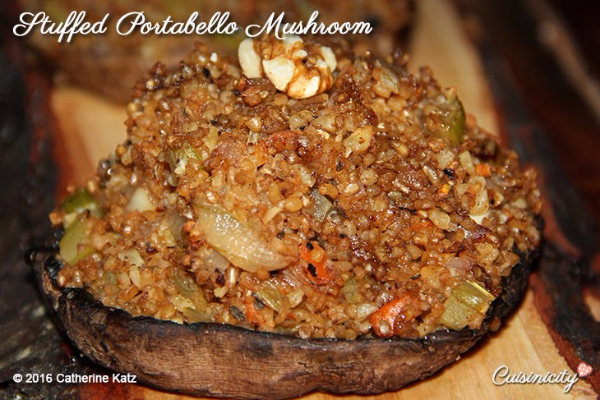 Bulgur is a nutritional powerhouse that would be a great addition to your 2017 meal rotation. It's versatile and incredibly easy to make. For the tabbouleh salad, you don't even need to cook it – just throw everything into a bowl and let it sit in the fridge for at least 2 hours so the bulgur has time to absorb all the flavors.
The stuffing for the stuffed portobello mushrooms is a delicious and nutritious alternative to regular white bread stuffing. The bulgur and walnuts add fiber, protein, and healthy omega 3 fatty acids and they blend so well together with the sautéed vegetables. You can prepare the mushrooms in advance and refrigerate them so you can pop them in the oven when you're ready. You can also use the stuffing in roasted acorn squash.
Tabbouleh Salad
Ingredients
1 cup bulgur
Juice of 2 large lemons (about ½ cup)
½ cup extra virgin olive oil
3 medium tomatoes, diced
1 small red onion, finely diced
2 cups fresh flat parsley, rinsed and chopped
1 cup fresh mint, rinsed and chopped
¼ tsp sea salt
Fresh ground pepper to taste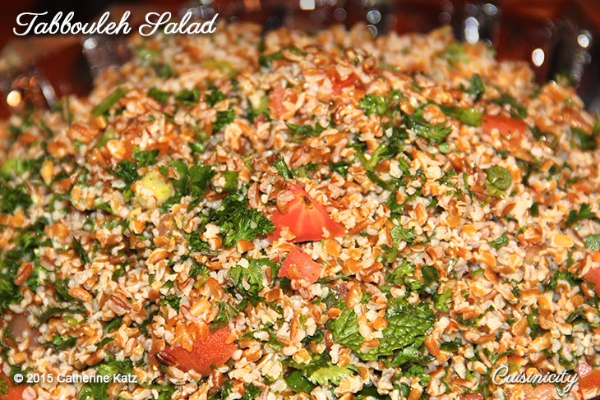 Directions
Rinse the bulgur thoroughly and drain (but leaving it a little wet)
Place it in a large bowl and add all the remaining ingredients.
Stir well to combine, cover and place in the fridge for at least 2 hours (you can also leave it overnight).
Stuffed Portobello Mushrooms
Ingredients
24 small (or 6 large) portobello mushroom caps
1 small yellow onion, diced
2 cloves garlic, minced
1 celery stock, diced
1 medium carrot, well scrubbed and diced
2 tbsp extra virgin olive oil
¾ cup dry bulgur
2 cups water
½ cup coarsely ground walnuts
½ tsp salt
Fresh sage to taste (or ½ tsp dry sage)
Fresh ground pepper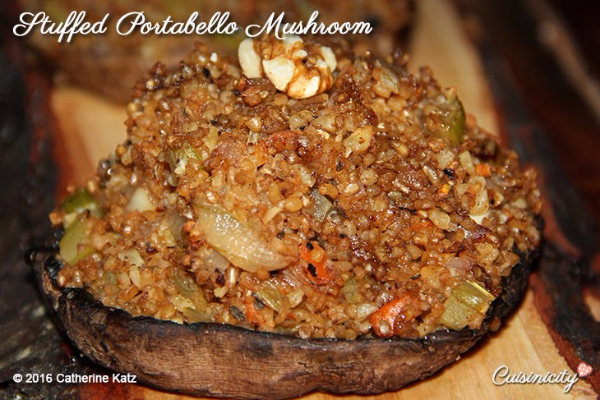 Instructions
Preheat oven 385º F.
Getting the mushroom caps ready:
Rinse and dry the mushroom caps and trim the stem (no need to hollow them out).
Heat a large shallow pan and when hot, add the mushroom caps and sear for 2-3 minutes on each side (no need for added oil if the pan is really hot). Turn off the heat and set aside in a shallow dish until ready to assemble.
They will give out some liquid as they cool off. Keep the reserved liquid for later!
Making the stuffing:
Heat olive oil in large shallow pan over medium heat. Add garlic, onion, carrot and celery and sautee for 2-3 minutes.
Add the dry bulgur wheat to the pan and continue to cook while stirring for a few seconds.
Add the water and cook until tender and all the liquid is absorbed (about 5-8 minutes).
Remove from heat and stir in ground walnuts, reserved liquid from the cooked mushrooms, fresh (or dry) sage, salt, and pepper.
Assembling:
Place the seared mushrooms on a baking sheet lined with parchment paper and fill each with the stuffing mixture using an ice-cream scooper, packing down slightly. It's okay that it's overstuffed.
Both recipes originally appeared on Cuisinicity.com.