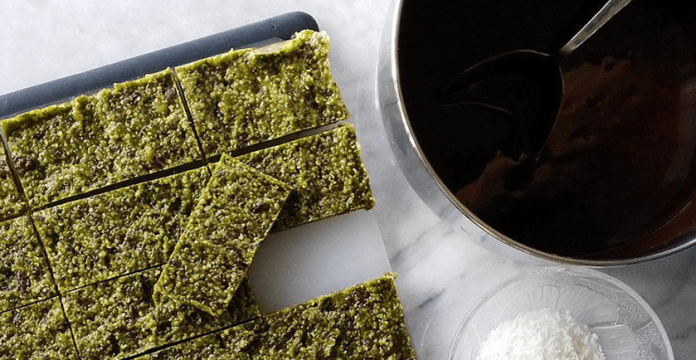 Decadent Matcha Hemp Chocolate Bar Recipe
Try these delicious homemade chocolate bars. They're super easy to make and are good for you too!
Some of the benefits of these fully-loaded treats:
Hemp seeds are loaded in nutrition. They are full of the healthy fats needed for optimal brain function, are a great source of protein and contain lots of fiber.
Dates are my favorite natural sweetener, packed with vitamins and minerals like B vitamins, magnesium, calcium, and iron.
Coconut oil is just the right type of fat that can actually be helpful to lower cholesterol, improve brain function, and enhance your energy.
Matcha green tea powder is an antioxidant powerhouse, enhancing overall health and longevity.
Makes 14-21 chocolate bars
Ingredients
Filling:
2 cups hemp seeds
16 soft medjool dates
5 tablespoons Barlean's organic virgin coconut oil
2 tablespoons vanilla extract
1/8 teaspoons sea salt
5 tablespoons maple syrup
1 tablespoon matcha powder (optional)
Chocolate Coating:3 cups good quality dark chocolate chips
5 tablespoons Barlean's organic virgin coconut oil
1 pinch of sea salt
Toppings: Unsweetened shredded coconut
Other topping options:
Crushed walnuts
Cacao nibs
Raw pumpkin seeds
Goji berries
Cranberries
Read more: 7 Fantastic Reasons You Should Totally Love Hemp
Directions
Process all filling ingredients, except maple syrup, in a food processor and mix into a fairly consistent mixture. Add maple syrup and process once again to combine.
Line a 15" x 10" or slightly smaller cookie sheet with parchment paper. Transfer the mixture into the parchment paper lined cookie sheet and flatten, pressing it down evenly. Freeze for 1 hour or until firm to the touch.
Melt the chocolate chips, coconut oil, and salt together over the stove in a medium pot. Set aside to cool for 5 minutes. Have your toppings handy and a small tray lined with parchment paper to set the final product on. Remove the filling from the freezer. Transfer the set filling onto a cutting board. Cut into 14-21 rectangles, depending on how large you'd like the bars to be. Dunk each rectangle in the melted chocolate to coat and allow excess chocolate to drip off the bar before laying back onto the parchment paper lined cookie sheet to set. Repeat with remaining pieces. Sprinkle with shredded coconut or any topping of your choice.
Place in the freezer for 20 minutes to set. Keep leftovers refrigerated for up to one month or keep in freezer for another time.