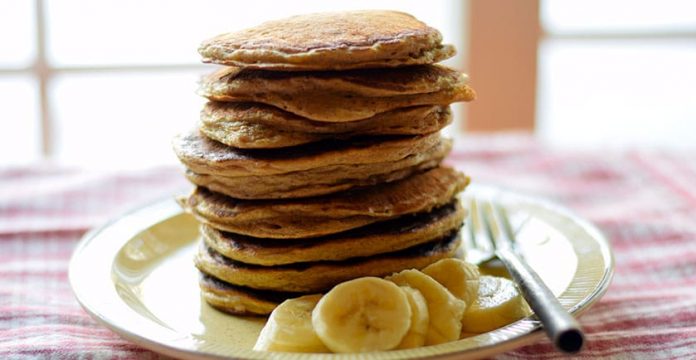 This hearty, kid-friendly pancakes recipe is packed with protein, calcium, and fiber and make a great start to a busy school day. This recipe is easily doubled so make extra and freeze. Pop them in the toaster and reheat on low (watch that they don't burn!) for a quick school-day morning breakfast or after-school snack.
Ingredients3/4 cup plain organic goat or cow's milk yogurt or coconut yogurt (for a dairy-free option, you can also use rice milk and add 1 tbsp lemon juice)
1 cup large flake rolled oats
1 1/2 cups rice milk (or milk of choice)
2 tablespoons cane juice crystals or 1 1/2 tbsp maple syrup, optional
1 1/2 cups whole spelt flour (or 3/4 cup whole kamut flour and 3/4 cup whole spelt flour-our favourite combo)
2 tablespoons ground flax or ground chia seeds
2 teaspoons baking powder
1 teaspoon baking soda
1/2 teaspoon sea salt
2 tablespoons Barlean's Organic Coconut oil, melted (or use another light tasting oil)
2 eggs, lightly beaten
Directions In a large bowl, mix yogurt, oats, milk, and cane juice crystals or syrup; set aside for five minutes. In a medium bowl, combine flour, ground flax or chia, baking powder, baking soda, and sea salt. Add oil to oatmeal mixture and mix well, then stir in eggs. Add dry ingredients, stirring just to moisten. Do not overmix. If your yogurt is very thick, you may need to add a bit more milk to thin out the batter. The batter should be fairly thick, but pourable. Spoon about 1/4 cup batter for each pancake onto a lightly oiled skillet. Cook until bubbles appear and underside is golden. Flip and cook on the other side until golden. Enjoy!
Image via Cathy Russell