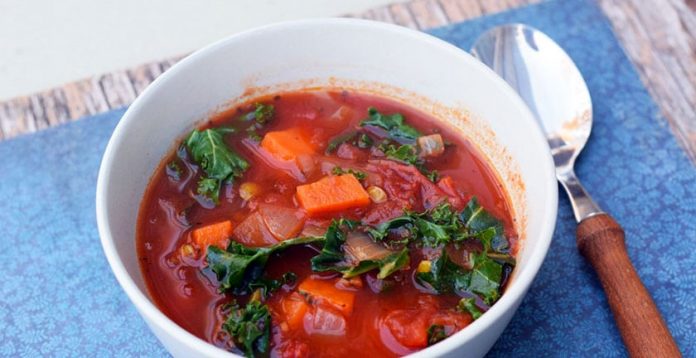 Enjoy this veggie-loaded healthy and very hearty fall or winter soup. If you are not able to find French green lentils, you can easily substitute regular green lentils in this dish.
Ingredients
4 leeks, white and light green parts only
1 large bunch of kale
1 tablespoon organic extra-virgin olive oil
1 28-ounce can diced tomatoes, drained
6 cups of pure water
2 sweet potatoes, peeled and cut into a 1/2" cubes
1 cup of french green lentils (can replace with green lentils)
1 tablespoon fresh thyme leaves (or replace with 1 tsp dried)
1 tablespoon maple syrup (optional)
2 tablespoons dulse flakes (optional)
2 teaspoons of sea salt
1/4 teaspoon black pepper
12 fresh basil leaves (optional) (or replace with 1 tablespoon dried basil)
1/4 cup grated parmesan cheese or crumbled soft goat's cream cheese (optional)
Directions
Slice each leek in half lengthwise, then into thinly sliced half-moons (about 2 cups). Place in a large bowl of water and swish to remove any dirt, then drain. Remove the stems from the kale and stack the leaves. Cut into 1-inch squares. You should have approximately 3 to 4 cups of chopped kale. Heat the oil in a large heavy-bottomed soup pot over medium heat. Add the leeks and cook for 5 minutes. Add the tomatoes and cook for another 5 minutes. Add the water and bring to a boil. Stir in the sweet potatoes, kale, lentils, oregano, maple syrup and dulse, pepper, and basil. Simmer until the lentils are tender, about 30 minutes. Add salt at the end and simmer for 10 more minutes. Taste and adjust seasoning if necessary.
Serve with a sprinkle of parmesan cheese or a bit of goat's cheese added. Enjoy!
Image via Cathy Russell