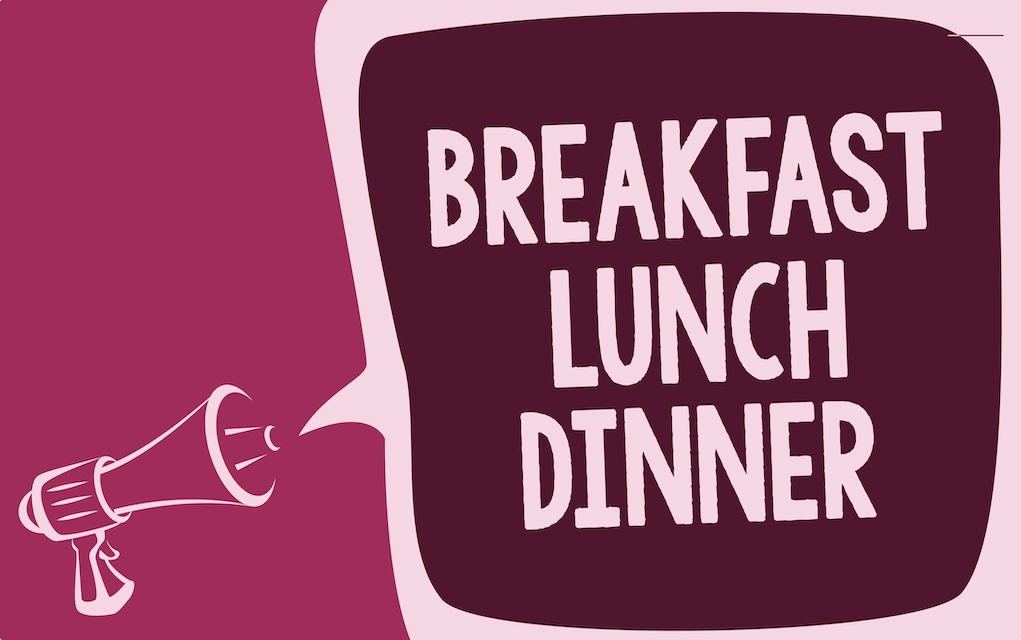 Needing a little inspiration for your low-FODMAP meals this week? Check out my delicious ideas and don't forget to meal prep! Being prepared is key to successfully following the low-FODMAP diet, stress-free.
Breakfast – Strawberry Morning Smoothie or Overnight Berry Quinoa Flakes.

Snack – 1 rice cake topped with 1 tablespoon organic creamy peanut butter, 1 tablespoon toasted coconut flakes and 1 tablespoon dried cranberries (no sugar added)
Lunch – 3 ounces deli turkey or chicken strips in a gluten-free and low-FODMAP wrap (such as Rudi's Plain Gluten-Free Tortilla), ½ cup baby spinach, ½ cup shredded carrots, 1 slice cheddar cheese, 1 tablespoon mustard.
Snack – ½ toasted gluten-free and low-FODMAP bagel** topped with 2 tablespoons ricotta cheese***, 1/3 cup sliced strawberries and drizzled with one teaspoon maple syrup
Dinner – Quick Low-FODMAP Stir Fry or 3 oz. baked salmon with ½ cup brown rice and Sesame and Ginger Bok Choy pg. 118 The Everything® Low-FODMAP Diet Cookbook
Snack/Dessert – 5 dark chocolate squares (30g) with 1 serving brie cheese (2 wedges or 40g), decaf green tea
**You will see me refer to gluten-free and low-FODMAP bread. That's because there are many gluten-free breads that are not low-FODMAP as well. Read labels and look out for ingredients such as honey, agave, inulin, chicory root, chicory root fiber, fructose and more. Some gums (guar, locust bean) can also trigger unwarranted symptoms of IBS. Everyone is different so if you really want to try gluten-free bread made with gums, test your own tolerance by starting with small pieces. According to the FODMAP Friendly App, xanthan gum passes (low-FODMAP).
***Anything higher than 2 tablespoons of ricotta becomes moderate to high in FODMAPs.
Other Low-FODMAP Meal Ideas
Breakfast
Low-FODMAP South of the Border Scramble: 4 oz. extra-firm tofu scrambled with 1 cup chopped kale, ½ cup red bell pepper, ¼ teaspoon cumin, 1/8 teaspoon turmeric, ¼ teaspoon paprika, ¼ teaspoon sea salt.
Low-FODMAP Skinny Omelet: spray pan with olive oil and add ¾ cup egg whites with 1 cup chopped Swiss chard, ½ cup chopped red bell pepper and 5 black olives, chopped.
Breakfast Bagel – Gluten-free and a low-FODMAP bagel with smoked salmon, scrambled eggs, tomato, salt, pepper
Egg & Cheese sandwich
Strawberry lactose-free yogurt with chia seeds
Savory oatmeal with an over-easy egg, red and green peppers sautéed in coconut oil, 2 tablespoons cheddar cheese garnished with spring onions (green tips only)
Quinoa Fruit Salad – mix together a 1/4 cup cooked quinoa with 5 strawberries, chopped, 1 small kiwi peeled and chopped, 1 tablespoon almond slivers, 2 teaspoons maple syrup, 1 teaspoon lemon juice and a ½ tablespoon chopped mint. Add more maple syrup or lemon juice to taste.
Peanut Butter and Strawberry Jam Open-Faced Waffle – 1 tablespoon natural peanut butter spread on a waffle and topped with 1-2 teaspoons low-FODMAP strawberry jam
Lunch
Turkey sandwich on gluten-free and low-FODMAP bread with mozzarella cheese, low-FODMAP pesto, tomatoes, pepper and salt
Glorious Strawberry Salad – pg. 88 The Everything® Low-FODMAP Diet Cookbook; add 6 ounces grilled chicken
Baked tofu, brown rice, bok choy, sesame seeds, 1/8 cup sliced water chestnuts, sesame oil, soy sauce
Gluten-free and low-FODMAP wrap with ground lean turkey meat, brown rice, 1/4 cup shredded cheddar cheese, 1/8th slice of a medium avocado, mustard
Roast beef, Havarti cheese (up to 2 slices), low-FODMAP mayonnaise, lettuce and tomato between 2 gluten-free and low-FODMAP waffles
Bacon, egg, tomato, spinach and low-FODMAP cheese melt on gluten-free and low-FODMAP bread
Ham and Swiss cheese on gluten-free and low-FODMAP bread
Low-FODMAP Salad with romaine lettuce, ¼ cup shredded carrots, ¼ cup cucumbers, 4 cherry tomatoes, 1 radish, 3 ounces firm tofu, 5 macadamia nuts, extra virgin olive oil, lemon juice, maple syrup
Collard Green Wrap with tofu, shredded carrots, cucumber matchsticks, 1/8th slice of a medium avocado and peanut sauce – whisk together 2 tablespoon peanut butter, 2 tablespoons water and 2 teaspoons maple syrup. Drizzle over other ingredients before wrapping.
Snacks
2 small kiwis, 1 serving rice crackers with 1 tablespoon natural crunchy peanut butter
1 slice gluten-free bread with 1 tablespoon sunflower butter and topped with sliced banana and pumpkin seeds
1 Udi's Gluten Free Blueberry Muffin
½ cup grapes, 5 medium strawberries, ½ cup pretzels
20 blueberries with plain lactose-free yogurt topped with 10 unsalted macadamia nuts
1 whole passionfruit pulp mixed in with 6 ounces of plain lactose-free yogurt and cinnamon
1 cheddar cheese stick, 5 black olives, 1 serving gluten-free and low-FODMAP crackers
1 cup chopped pineapple sprinkled with cinnamon
½ cup red pepper sticks, ¼ celery stalk, ½ medium carrot peeled and sliced, 1 ounce Colby cheese
1/2 cup sliced cucumber with 4 tablespoons cottage cheese and 1 tablespoon pine nuts
1 Roma tomato halved and cored and filled with 1 egg and 1-ounce cheese.  Sprinkle with herbs and bake at 450ºF for 6-10 minutes (depending on desired doneness)
Cherry Tomatoes and Goat Cheese – top cherry tomatoes with up to a ½ cup crumbled goat cheese and sprinkle with sea salt, chives, basil or oregano.
In a small bowl add coconut oil and cinnamon, stir and melt on the stove at low temperature. Drizzle on air-popped popcorn.
Dinner
Grilled chicken with a baked potato and spinach sautéed in garlic-infused olive oil
Turkey Quinoa Meatballs with Mozzarella (pg. 129 The Everything® Low-FODMAP Diet Cookbook) and rice pasta with Parmesan cheese and freshly cracked black pepper
Fish (tilapia, cod, halibut) baked with lemon, butter and dill and served with ½ cup mashed turnips and a low-FODMAP green salad.
Crockpot Maple Dijon Chicken (recipe coming soon.)
Chicken Fajita Bowl (see recipe below)
PF Changs Inspired Turkey Lettuce Wraps (see recipe below)
Slow Cooker Turkey Pot Pie Soup (recipe coming soon.)
Nourishing Bowl – add ¼ cooked quinoa to a bowl, followed by ¼ cup canned lentils (drained and rinsed first), 1 cup cooked Swiss chard or kale, 1 fried egg, ¼ cup shredded carrots, 1 teaspoon extra virgin olive oil, ½ tablespoon (or more) lemon juice and pinch of sea salt. Mix until combined.
Meal Prep Tip

Bowls or salads are very quick ways to make low-FODMAP meals. Take out your low-FODMAP grocery list and go shopping for the low-FODMAP foods you're most drawn to. When you get home from the supermarket, make staples such as rice, quinoa, buckwheat, millet or pasta. Cut up vegetables. Store all pre-made foods in air-tight containers in the refrigerator. When ready to eat, get creative and mix together desired ingredients. Extra virgin olive oil, coconut oil, avocado oil, sesame oil, peanut oil, sunflower oil, safflower oil, melted butter, rice vinegar (2 tablespoons), maple syrup, balsamic vinegar (1 tablespoon) all make great options for dressings.
For low-FODMAP recipes, be sure to subscribe to our newsletter: