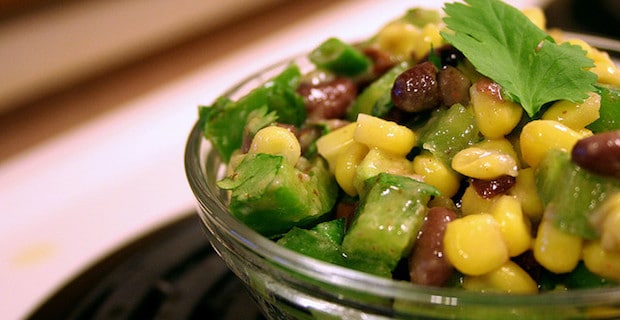 This quick and easy salad recipe is loaded with healthy fats and fiber. It goes great with classic Mexican dishes and is filling enough for a quick and nutritious lunch.
Dressing Ingredients
¼ cup fresh chopped cilantro
1 white onion, chopped into small pieces
¼ cup red wine vinegar
1 tbsp lemon juice
2 tbsp lime juice
1 tbsp cumin
2 tsp salt
1 tsp pepper
1 tbsp chili powder
1 tbsp garlic powder
2 tbsp erythritol
Read more about erythritol and other natural sweeteners
Salad Ingredients
2 avocados, cut into small pieces
1 can black beans, rinsed and drained
1 can chickpeas, rinsed and drained
2 cans organic corn niblets, rinsed and drained
Directions
Mix dressing and add to salad ingredients. Stir well and enjoy it!
Image: Aero Racer E
More recipes:
Hearty Tuscan White Bean Soup Recipe
Grilled Corn on the Cob with Cilantro Lime Drizzle
Sign up for our newsletter:
DISCLAIMER: This article contains affiliate links, which means that if you click on one of the product links, Naturally Savvy will receive a small commission so we can keep pumping out amazing articles like this one. Thank you so much for your support!