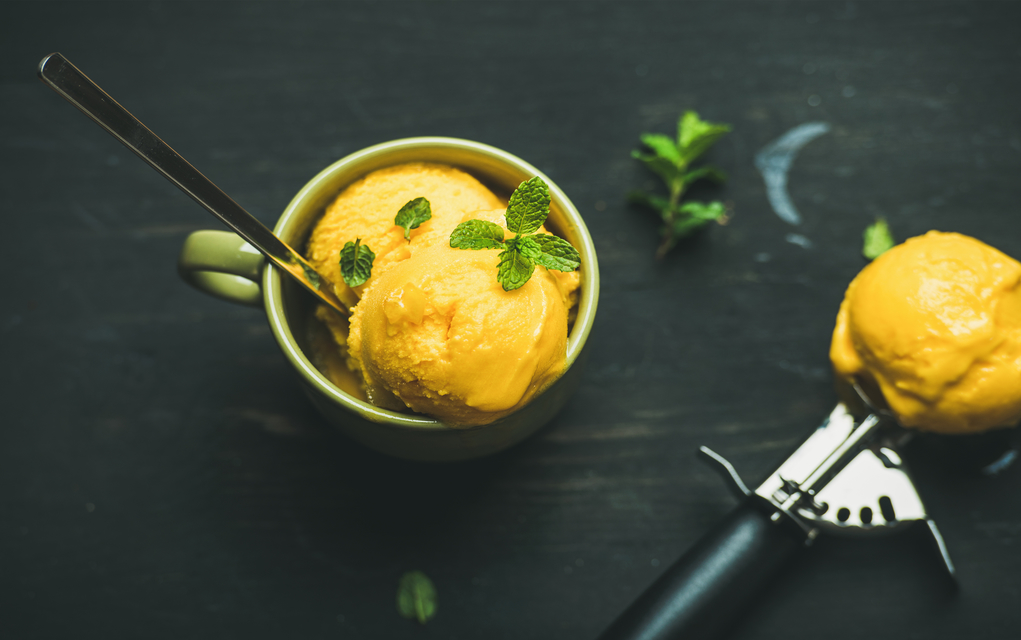 Mango sorbet…. In a minute? YES PLEASE!
Take advantage of Mango season and start freezing your leftover or over ripened mangoes. A freezer full of mangoes means you have a delicious healthy dessert that is paleo friendly that can be made in a minute. Feel free to use this recipe as a simple base recipe or modify at will if you wish. A couple of tablespoons of coconut cream or even a few fresh mint leaves added to the mix will provide different flavor combinations. Feel free and have fun experimenting.
Freeze any leftover sorbet, however when you go to serve you may need to add it back to the blender again to soften. 
Serves: approx. 8
Ingredients you will need
3          Cup                 Frozen mango chunks
1/4       Cup                 Maple syrup
¼         Cup                 Lemon juice, freshly squeezed
Instructions:
In a blender or food processor, process the mango with the maple syrup and lemon juice until just smooth and creamy.
Scrape down the sides as you go if needed.
Note:
Feel free to mix through or top each serve with your favorite "extras", such as roasted macadamia nuts, toasted coconut flakes or a paleo friendly granola. Drizzle with a little extra maple syrup for a real treat.
For more healthy recipes, be sure to subscribe to our newsletter:
DISCLAIMER: This recipe contains affiliate links, which means that if you click on one of the ingredient links, Naturally Savvy will receive a small commission so we can keep pumping out amazing recipes like this one. Thank you so much for your support!