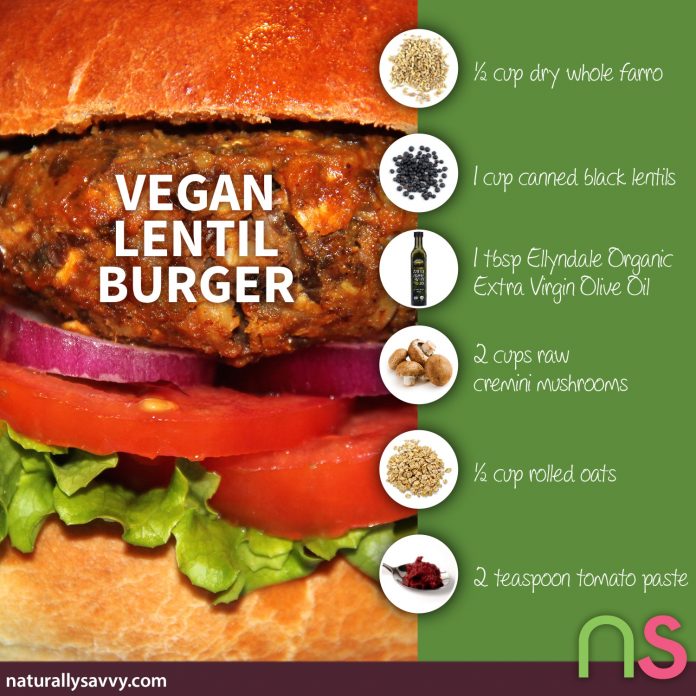 Alright, I have to admit, I have been trying to
create the perfect veggie burger for a long time now without much success. The typical ones I had tasted before were either
too mushy, or too obviously "healthy-tasting" (that's the French foodie in
me speaking!!) or just tasted too "complicated," if you know what I mean.
Now, I have remedied all that!
This the best vegan, veggie burger I have ever
eaten and I am not just talking nutrition-wise. The ingredients are indeed
superb – I'll get to that in a minute – but I am talking tasty, chewy,
not mushy, almost "meaty" as a juicy burger you can sink your teeth into!
Here is how I managed to achieve all that, using these nutritious
ingredients: I use cooked farro* (see Editor's Note below about farro) as my base (I keep it intact, not ground) which
gives it that chewy-nutty texture, then, I add puréed lentils and sautéed
diced cremini mushrooms which give it that "meaty-ness", and finally
I "bind" it all together with ground oats and seasonings. It is
loaded with protein and fiber; rich in vitamins and minerals; and a source
of healthy, unsaturated oil – it is firing on all cylinders!
Read more: 7 Best Vegan Protein Sources
I also like to use French lentils (Le Puy) for this recipe. If you prefer, you can cook from scratch whichever type of lentil you choose. (a little over 1/3 cup dry to make 1 cup cooked, then rinsed and drained – follow package instructions)
Watch me make it in my own kitchen, below-it's
so easy!
Simply Delicious Vegan Lentil Burger RecipeMakes 4 burger patties
Ingredients
Chewy
Base:1/2 cup dry
whole farro* (see Editor's Note below)
"Meatiness":1 cup
canned black lentils, rinsed and well drained (I like to use French Lentils in this recipe but any lentils will work)
1 tablespoon olive oil
2 cups raw
cremini mushrooms, rinsed and diced (8 oz)
Binding:1/2 cup
rolled oats
2 teaspoon tomato paste
1/2 teaspoon dijon mustard
1 teaspoon onion powder
1 teaspoon garlic powder
1/2 teaspoon salt
Directions
Getting everything ready:1. Preheat a non-toxic, non-stick, medium pan and when hot,
add the 2 cups diced mushrooms and cook until tender for
10 to 12 minutes until water has evaporated (do not add any oil). Transfer to a bowl and set aside. You
will end up with 3/4 cup cooked diced mushrooms.
2. Meanwhile, place 1/2 cup dry farro* in 1 3/4 cups
boiling water and cook for 10 minutes, until water has evaporated. Transfer to a measuring cup or bowl and set aside to cool. You will end up with 1 cup cooked farro*.
3. Place the rolled oats in the bowl of a small
food processor and grind until medium fine (it shouldn't be a powder) and
set aside.
4. Place the canned (or cooked) lentils (make sure
they are well rinsed and drained) in food processor and grind, scraping
the sides to form a paste.
5. Add the olive oil and grind again until smooth.
Transfer to a cup and set aside.You will end up with about 3/4 cup puréed lentils.
Read more: The Healthiest Cookware and Bakeware Options
Assembling:
1. Place the cooked mushrooms, ground oats and
puréed lentils in a medium bowl and stir gently with a spoon.
2. Add tomato paste, Dijon mustard, onion powder,
garlic powder and salt and stir again.
3. Add the cooked farro* last and, using your
hands, "dig in" and work the mixture so that it forms a ball.
4. Form into 4 equal patties. I like to use a
big ice-cream scooper to make them more uniform and compact and finish
forming the patty with my hands. You can refrigerate or freeze at this point
until ready to grill.
5. When ready to grill, drizzle a little oil in a large non-toxic, non-stick skillet and heat over high heat. When the pan is very
hot, place the patties on the pan and cook for 2 to 3 minutes on each side.
Optional: Use a pastry brush to coat each
patty with homemade BBQ sauce on both sides (about 1 tablespoon per
patty) and serve on soft wheat buns with garnishings.
Editor's Note: *Farro is the Italian name for emmer wheat, an ancient strain of hard wheat from the Fertile Crescent in western Asia. Often
confused with spelt due to their similar taste and texture, farro comes in perlato (pearled)
and semi-perlato (semi-pearled). Choose semi-perlato, it has more of the
fiber and bran intact. Buy whole, uncracked farro if you are able to find it. Because its lower in gluten than hybridized wheat, many people who are sensitive to wheat find they are able to tolerate farro. Because it contains gluten, however, someone who is celiac would have to avoid this and experiment using another gluten-free grain such as brown rice in this recipe.
Image, video and recipe via Catherine Katz of Cuisinicity.com