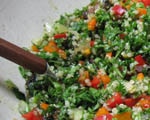 Consuming natural raw ingredients when the weather is nice makes bodies feel great. If you eat the whole cup of bulgur even alone, it contains a whopping 33 percent of your daily value of fiber! Recipe is vegan (no eggs, no dairy) and raw.
Ingredients:
1 cup cracked/bulgur wheat
2 bunch Italian parsley, small coarse chop
5 medium lemons, juiced, 1 zested
cup water
1 large cucumber, sliced
2 large tomatoes, medium dice
tsp salt
tsp pepper
Steps/Methods:
Pour bulgur into at least a 4 qt bowl and top with cup of water, salt and pepper. Stir the water into the wheat. Then zest one lemon (I prefer to use a microplane to zest) right into the bowl the cut the all the lemons in half and juice with a reamer or a fork straight on top of the wheat. Be careful of the lemon seeds, you might want to place a fine mesh strainer about the bowl of wheat when you juice the lemons to catch the seeds. Once juicing is done, incorporate the juice all over the wheat and let soak for 15 minutes. Stir again and let soak for 10 more minutes then add the chopped parsley, cucumber and tomatoes and season to taste with salt and pepper.
Additional Tips:
1 cup cracked/bulgur wheat
2 bunch Italian parsley, small coarse chop
5 medium lemons, juiced, 1 zested
cup water
1 large cucumber, sliced
2 large tomatoes, medium dice
tsp salt
tsp pepper