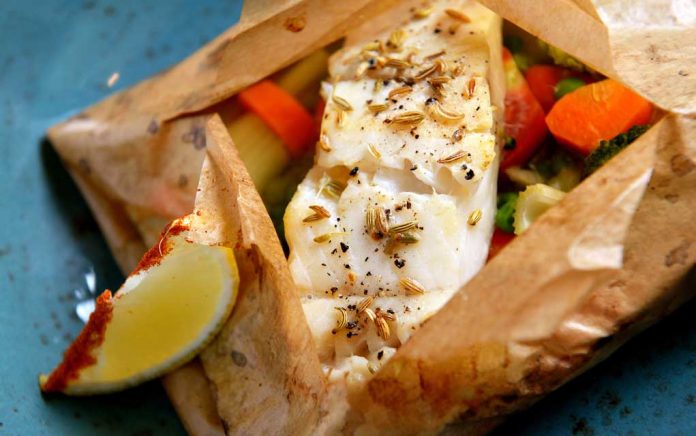 Any whole white fish (i.e. red snapper, sea bass, and striped bass) works fine for this recipe.
Ingredients:
At the store, ask the fishmonger to clean the whole fish, leaving the head and tail on. (When purchasing, figure about 1 lb. of fish per person.) When you get home, make sure to puncture some holes in the packaging, which gives the fish some air to breathe (metaphorically). Keep the fish in the refrigerator until about an hour before you are ready to prepare it.
Butter or oil to grease the pan
Lemons, sliced and halved (to create liquid)
Whole scallions
Parsley
Red peppers, sliced
Zucchini
Carrots, thinly sliced
Steps/Methods:
Preheat oven to 350-375 degrees F.
Lay a piece of parchment paper (big enough to wrap the fish) on a baking sheet.
Butter or oil the parchment paper. Place several slices of lemon on the foil, and then put the fish on the lemon slices.
Put some or all of the following in the fish's cavity and around the fish: whole scallions, parsley, sliced red peppers and zucchini, thinly-sliced carrots, lemon slices, and two tablespoons of butter.
Add some liquid (lemon juice, olive oil, white wine, etc.) and make sure to wrap the fish well with more parchment paper, creating a package around the fish.
Put the wrapped fish (on the baking sheet) into the oven.
Cook until the meat is white and tender down to the bone. Figure about 40 minutes for a 2 lb. fish, but cooking time will vary depending on the size of the fish and the "real" temperature of the oven. (Oven temperatures vary greatly.) The fish is done when the knife punctures the skin and meat easily down to the bone. You are looking for a white, cooked color in the fish meat. Also, don't forget about carryover cooking.
Additional Tips:
At the store, ask the fishmonger to clean the whole fish, leaving the head and tail on. (When purchasing, figure about 1 lb. of fish per person.) When you get home, make sure to puncture some holes in the packaging, which gives the fish some air to breathe (metaphorically). Keep the fish in the refrigerator until about an hour before you are ready to prepare it.
Butter or oil to grease the pan
Lemons, sliced and halved (to create liquid)
Whole scallions
Parsley
Red peppers, sliced
Zucchini
Carrots, thinly sliced