Coconut Vinegar Is High In Essential Nutrients
Have you heard of coconut vinegar? If not, let me give you the low-down on it. Coconut vinegar is made through fermenting coconut sap from the coconut tree. It is popular in Southeast Asia, including the Philippines. Since it is low on the glycemic index, it is good for diabetics. The best kind of coconut vinegar is raw, certified organic and made from the sap, not coconut water, as it will have more nutritional value.
An article in Asian Journal USA claims that coconut vinegar is healthier than "any other type of vinegar." That could be true as the sap it's made from is high in minerals, including potassium, phosphorus, iron, magnesium, sulfur, boron, zinc, calcium, manganese and copper, and a probiotic called FOS. It also contains nine essential amino acids and eight non-essential amino acids, plus B vitamins and vitamin C.
That is good news since minerals, vitamins and amino acids play such an important role in our bodies. According to a Help Guide on vitamins and minerals put out by Harvard University, one of the main tasks of major minerals is to maintain the proper balance of water in the body. Calcium, phosphorus and magnesium are important for maintaining healthy bones, and sulfur helps stabilize protein structures while amino acids are proteins' building blocks and are essential for all metabolic processes. B vitamins are essential for a variety of the body's functions, and play an important role in the activities of enzymes, the proteins that regulate chemical processes. They are also necessary to help prevent many health problems. Vitamin C is important for maintaining a healthy immune system.
You can use coconut vinegar to make salad dressings or use it in place of apple cider or balsamic vinegar. It's available at most natural food stores or online, and many of the company's who make it offer it as certified organic.
Read more about boosting the immune system
Photo Credit: VeganBaking.net
---
About the Author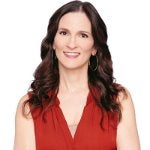 Founder & Chief Passionista at NaturallySavvy.com. See my full bio here.