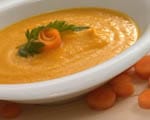 Welcome Spring by making this wonderful refreshing and warming soup! Carrots are wonderful sources of Vitamin A. Fresh ginger also helps detoxify the body, which will help you spring forward into a new season! This recipe is vegetarian, gluten and egg free.
Ingredients:
Olive oil
1 red onion, diced
10 medium carrots (about 1 3/4 pounds)
1 qt water
2 qt carrot juice
1 tbsp dried ginger
tsp cumin
3-inch fresh ginger, peeled and small diced
4 oz mascarpone
salt and pepper to taste
Steps/Methods:
Heat the oil in a large pot over medium heat. Add onion cook uncovered until onions are translucent then add cumin and ginger powder and saut for 2 min stirring constantly. Add the carrots with enough water to cover. Cook; stir mixture occasionally. Simmer, covered, until the carrots are very soft, about 20 minutes. Remove from the heat and allow carrot mixture to cool.
Working in batches, transfer the carrot mixture to a blender and puree until smooth. Add tsp fresh ginger to each batch.
Return the carrot puree to the pot and reheat over medium heat. Divide among warm soup bowls, top with mascarpone and serve immediately.
Additional Tips:
Olive oil
1 red onion, diced
10 medium carrots (about 1 3/4 pounds)
1 qt water
2 qt carrot juice
1 tbsp dried ginger
tsp cumin
3-inch fresh ginger, peeled and small diced
4 oz mascarpone
salt and pepper to taste