Warm Cheesy Chickpea Pesto Recipe with Beet Greens and Portobello Mushrooms
This quick warming dish tastes like a comfort food, but its highly nutritional, filling, and can be made in less than 20 minutes (if pesto is premade and beans are precooked or pre-bought). All of the ingredients are high in fiber and protein, with a healthy dose of vitamins and minerals which benefit colon health, and stabilize blood sugar and cholesterol, which all work in tandem to control weight.

That delicious cheesy flavor given by the nutritional yeast is full of B-vitamins: the primary precursors which our bodies use to create neurotransmitters. Meaning, if you eat this dish you will "positively" feel better.
Ingredients


Serves 2-3
1 can or 15oz chickpeas soaked and cooked
2-4 tbsp pesto (see below for traditional recipe or try this vegan pesto recipe)
¼ cup chopped sweet onion
2-3 Portobello mushrooms
3-5 tbsp water
¼ sea salt
3-4 cups beet greens
4-5 tbsp nutritional yeast
coconut oil
Read more about reasons to love Portobello mushrooms

Directions
Soak beans at least 12 hours and cook slowly until soft. In skillet add coconut oil and sauté chopped onions. Once onions are glassy, reduce heat, add sliced Portobello mushrooms, pesto and sea salt. Place lid on skillet and let simmer for 5 minutes until mushrooms have shrunk. Add chickpeas and coat with pesto mixture. Add water to simmer (if needed) for another 10-15 minutes. Once flavors have fully combined, turn off heat and add in chopped beat greens and toss. Place lid on skillet and allow greens to wilt. Mix in nutritional yeast once dish has cooled to eating temperature and serve.
Tip
Wilting greens are effective way to keep all vitamin and mineral content of delicate vegetables.
Read more about eating the stems, skins, and tops of vegetables
Homemade Pesto
2 cups basil, coarsely chopped
¾ cup pine nuts, toasted
2-3 tbsp grated organic Parmesan
1-3 garlic cloves
2 tbsp olive oil
3 tbsp red wine vinegar
sea salt, to taste
Directions
Coarsely chop basil and place into food processor, pulse quickly. In skillet toast pine nuts until golden brown and add to food processor. Add in all other ingredients into food processor and blend well. Add water if needed to loosen consistency.
Tip
Use basil in season and substitute parsley in off seasons.
Image: Louise Van Blyderveen

---
About the Author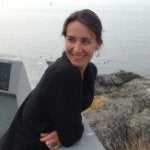 A number years ago, Louise Van Blyderveen, BA, CNP, decided to take charge of her own fitness and health. She started to seriously look at what she was consuming and began to take an interest in eating clean. The result: she began to love cooking, her food tasted better, and she lost weight! It was an eye-opening experience to the power of real, simple, clean food. More recently she has made a career change to become a Holistic Nutritionist, and ever since she has had a hard time containing her brimming enthusiasm about eating whole foods and eating sustainably.