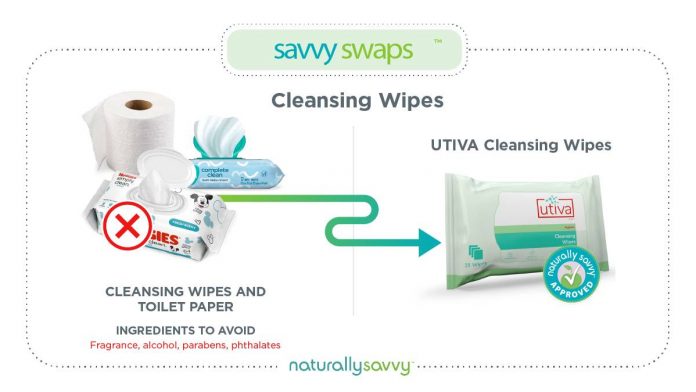 Did you know that some brands of wipes contain fragrances, alcohol, parabens, and phthalates?
You'll often see the word "fragrance" on the label, but not phthalates because they're one of the many chemicals that can be labeled as a fragrance. The reason phthalates are bad for us is because they can cause hormone disruptions.
Luckily parabens aren't as common anymore because of consumer demand. They used to be added to stop mold from growing in the wipes. Parabens can also mess with hormones.
Alcohol can be very drying and disrupt the PH of your tender areas. Stay away!
We chose the wipes on the right from Utiva Health. They use natural ingredients and some are even organic. And they are more gentle than toilet paper when you're experiencing irritation.
Do you use hygiene wipes?
As a fan of Naturally Savvy you can receive a 25% off your first order on all Utiva Health products.