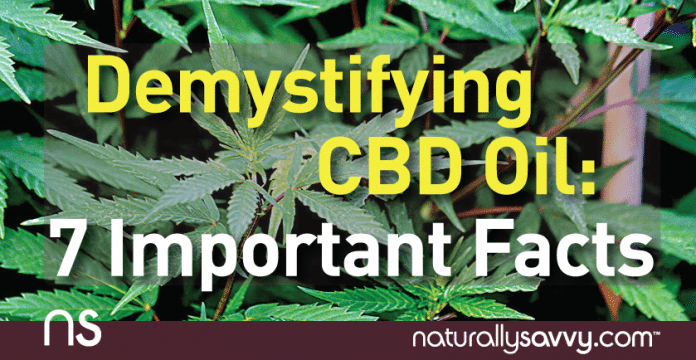 CBD Oil is gaining momentum as an effective therapy for a multitude of disorders. Here are some important facts that you need to know before buying or trying:
1. CBD is a chemical compound known as cannabinoids.
CBD can be extracted in oil form from either marijuana or hemp, both of which belong to the cannabis plant. CBD oil from hemp is currently legal in all 50 states since it is extracted from hemp, and not marijuana. CBD oil from marijuana is still illegal in most states.
2. CBD products are available in many different forms.
You can find it in drops (tinctures), capsules, vape oils and dabs.
Read more: 5 Reasons to Love Hemp Seed and Hemp Oil
3. You will not get high from CBD products.
The THC in marijuana is the psychoactive ingredient that produces effects of feeling 'high.' CBD may possibly contain a trace amount of THC or none at all, but is unlikely to show up in a standard drug test.
4. CBD is gaining momentum as an alternative treatment option for many diseases and medical conditions. According to a 2013 review published in the British Journal of Clinical Pharmacology, studies have found CBD to help with the following medical conditions:
Seizures
Nausea and vomiting
Psychosis disorders
Pain and inflammation
Neurodegenerative disorders like Multiple Sclerosis
Anxiety and depression
Fibromyalgia
Headaches
5. CBD has NOT been approved by U.S. FDA. There are expected to be more research and scientific studies in the near future as the number of people using it is steadily increasing. As yet, very few studies on CBD have been carried out in human patients. Most testing done to date has only been done on animals.
Read more: Is Medical Marijiuana Contaminated
6. The good new is some clinical trials have started. A pharmaceutical version of CBD was recently developed by GW Pharmaceuticals, a drug company based in the UK. They have begun clinical trials on CBD as a treatment for schizophrenia and certain types of epilepsy. In the United States, a research team at the California Pacific Medical Center, has stated that they hope to begin trials on CBD as a breast cancer therapy.
7. Do your research before purchasing CBD online or locally. Make sure the source is a reputable one. The FDA has recently issued a warning about the many sellers of CBD Oil. Cannabis easily accumulates heavy metals and the soil it grows in needs to be carefully tested for pollutants. It may become highly contaminated, especially if grown in countries with less strict environmental regulations. U.S. or Canadian grown would be the safest bets.
NaturallySavvy.com Disclosure: The statements made here are for information purposes only and are not intended to infer that any of the products discussed will diagnose, cure, treat or prevent any disease. Always check with your physician before starting a new supplement.
Sources:
Cannnabis and Cannabinoids http://www.ncbi.nlm.nih.gov/pubmedhealth/PMH0032788/
5 Differences Between CBD and THC: http://www.truthonpot.com/2014/09/24/5-differences-between-cbd-vs-thc/
5 Must-Know Facts About Cannabidiol (CBD): http://www.leafscience.com/2014/02/23/5-must-know-facts-cannabidiol-cbd/
5 Facts about CBD and Fibromyalgia: http://www.fibrotoday.com/5-facts-about-cbd-oil-and-fibromyalgia/
FDA Issues Warning Letters to CBD Hemp Oil Makers: http://www.hightimes.com/read/fda-issues-warning-letters-cbd-hemp-oil-makers
Image via: Flickr