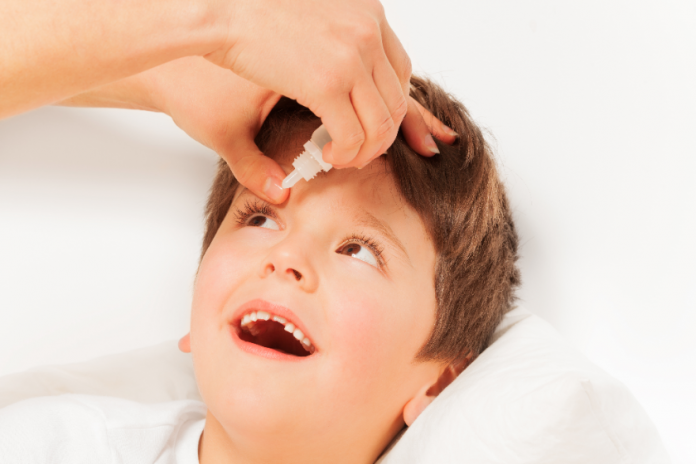 I know the feeling too well: In 2012, my youngest daughter woke up one morning with the white part of her right eye all red, itchy, and sensitive to light. There was crusty on her eyelashes and in the corners of her eyes. I knew right away it was pink eye, aka conjunctivitis, and the next thought I had was to see a doctor and get antibiotic eye drops. So I did and gave them to her.
But new research shows that antibiotics are not what she needed. In fact, use of antibiotics for what is most probably a viral infection, an allergic reaction, or a simple irritation, could make pink eye worse. According to researchers in the new Ophthalmology study, use of antibiotic corticosteroid eye drops in most cases of acute conjunctivitis can make the viral infection worse and increase the risk of developing glaucoma and cataracts.
Wow.
Up to 80 percent of the six million people diagnosed with pink eye every year in the United States have contracted the condition because of a virus not a bacteria. Viruses don't respond to antibiotics.
Read about 4 herbal remedies to soothe dry, itchy eyes
According to Dr. Joshua Stein, an associate professor of ophthalmology and visual sciences at the University of Michigan and Kellogg Eye Center and the head of the new study on use of antibiotics and conjunctivitis, patients who insist on getting antibiotics for pink eye "may leave disappointed if they're just being told use some cold compresses and artificial tears." In fact, the best "treatment" for these cases of pink eye is "just doing a lot of handwashing and just giving it a chance to run its course."
One significant hurdle to using antibiotics for pink eye is outdated school policies. Since viral conjunctivitis is contagious, schools in the United States and Canada often recommend, or require, that affected children use antibiotics before they can return to school. Parents who want to take a more effective and natural approach (see below) may run up against these requirements at their child's school.
Read about antibiotic alternatives
How to treat pink eye without drugs
The following natural treatment options can be helpful for both bacterial and viral conjunctivitis.
Green tea. Brew up a pot of green tea (matcha if you have it) either with tea bags or fresh leaves. Allow the tea to cool and then place the bags or a clean cloth soaked with the tea over the infected eyes. The bioflavonoids in green tea, especially the catechins, can help fight infections.
Holy basil (Ocimum sanctum). This herb possesses anti-inflammatory and antimicrobial abilities that can go a long way toward relieving pink eye. Soak holy basil leaves in boiled water for 10 minutes and allow to cool before soaking a clean pad in the tea. Apply the cloth to the affected eyes as a compress.
Milk, specifically breastmilk and raw cow or goat milk. If you have access to the former, an eye drop of immune-fighting, probiotic-rich human breastmilk in the affected eye can speed up recovery. Two suitable alternatives are raw cow or goat milk, which can be applied in the same way.
Turmeric. This spice, which contains the active ingredient curcumin, has anti-inflammatory and antibacterial properties. You can try mixing two tablespoons of turmeric powder in 8 ounces of boiling water and allow the mixture to cool. Soak a clean cloth in the mixture and apply as a compress to the affected eyes.
Colloidal silver. This natural remedy consists of submicroscopic metallic silver particles suspended in distilled water. Look for true colloidal silver versus ionic or silver protein like the ones from Sovereign Silver. For pink eye, the suggested treatment is two or three drops to the affected eye three to four times daily. Colloidal silver also can be used as an eyewash or a gentle spray over the eyes. It is recommended you use colloidal silver under the guidance of a knowledgeable alternative health practitioner.
Neem oil. This oil also has antibacterial and anti-inflammatory properties and is used around the eye rather than in the eye itself. Apply a thin layer of neem oil around the eyelid and eye before retiring.
References
Axe J. 6 natural treatments for pink eye symptoms
Cabrera C et al. Beneficial effects of green tea-a review. Journal of the American College of Nutrition 2006 Apr; 25(2): 79-99
Cohen MM. Tulsi-Ocimum sanctum: a herb for all reasons. Journal of Ayurveda and Integrative Medicine 2014 Oct-Dec; 5(4): 251-59
Leonard J. 15 reasons you need a bottle of colloidal silver in your home. Natural Living Ideas 2016 Jan 13
Pink eye: a fast and easy home remedy. The Healthy Home Economist 2017 May 26
Prasad S, Aggarwal BB. Turmeric, the golden spice. In Herbal Medicine: Biomolecular and Clinical Aspects. 2nd ed.
Schumacher M et al. Anti-inflammatory, pro-apoptotic, and anti-proliferative effects of a methanolic neem (Azadirachta indica) leaf extract are mediated via modulation of the nuclear factor-kB pathway. Genes & Nutrition 2011 May; 6(2): 149-60
Shekhawat NS et al. Antibiotic prescription fills for acute conjunctivitis among enrollees in a large United States managed care network. Ophthalmology 2017 Jun 14
Zafar M. Pink eye needs "to run its course," say ophthalmologists advising against antibiotics. CBC News 2017 July 6